We work to create a lively workplace where our employees can apply their skills.
Promotion of Diversity
Promotion of the Active Participation of Women
In Nichiban, measures to continue working are in place, and there is no difference in the length of service between men and women. However, the first phase of the Action Plan (2016- (FY2018) has been formulated and we have been working on solving the issue of "disparity between men and women in the ratio of managerial posts". In the 2016 fiscal year, we held career training for female leaders who did not have enough career development opportunities, and in the 2017 fiscal year, we held diversity management training for all managers and work style reform lectures for executives. . For female leaders, we moved on to conduct "target setting training" in the 2017 fiscal year, and in the 2018 fiscal year implemented MBO targets using that training.
From the 2019 fiscal year, we will formulate the second phase of the action plan and continue to aim for a workplace where everyone, regardless of gender, can play an active role.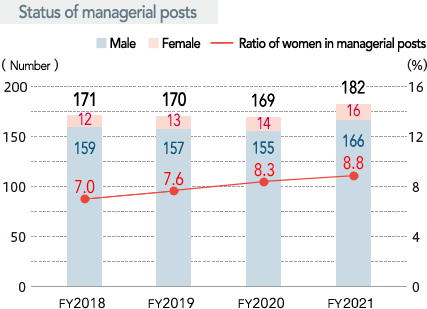 Employee Status

Unit
FY2016
FY2017
FY2018
Average Age (employee)
Age
40.1
40.2
40.6
Male
40.4
40.5
40.8
Female
39.2
39.2
40.0
Average Years of Service
Year
16.7
16.9
17.0
Male
17.6
17.9
18.0
Female
14.0
13.9
14.2
Turnover
%
1.0
1.1
1.4
Childcare Leave
Name
15
16
23
Male
1
1
4
Female
13
14
15
Return rate
%
100
100
100
Nursing Care Leave and Leave
Name
6
5
4
Male
4
3
3
Female
2
1
1
Taking paid leave
%
42.6
43.9
46.5
Employment of those with disabilities
Nichiban is committed to hiring those with disabilities, and many work at multiple locations. At the head office, each workplace has a job that takes into account disability, and plays an active role utilizing their individual abilities.
In the FY2018, a new workplace was established at the Anjo Tape Factory, where people with intellectual disabilities are in charge of operations such as product packaging. Regardless of the severity of disabilities, we work together, and we take pride in our work and operate with the aim of creating a workplace that achieves "autonomy" and "growth". Every year, we accept internships from special needs schools, which lead to continued recruitment (employment rate for persons with disabilities as of June 2018: 2.24%).
We will continue to comprehensively promote the employment of people with disabilities, aiming to become a company where diverse human resources can play an active role.
Promotion of work-life balance
Nichiban has a variety of vacation and leave systems in addition to the statutory annual paid leave, as part of the promotion of work-life balance (work-life balance) for employees. Injury and sick leave for personal injury and illness, childcare leave for childcare, reduced workloads and worktimes for those handling childcare, temporary retirement and nursing care leave for family care, as well as refresh leave for every 10 years of continuous service. We also provide a "volunteer vacation" for social contribution activities.
Childcare Leave Taker's Comment
Looking back on myself during childcare leave gives me a good opportunity to reflect on what's important to me, and I think that I have come to hold a wider view of the world than before. I feel that after returning to work, I can now work on issues with a stronger sense of purpose. Every day is fulfilling.
Anjo Tape Factory Production Engineering Development Section
Aya Osako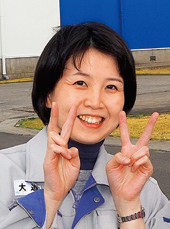 Improvement of the employment environment
At Nichiban, we are improving the employment environment so that employees can balance their work and family life, while fully demonstrating their abilities, as well as supporting the growth of both employees and the company. In December of 2018, the company was certified by the Director of the Tokyo Bureau of Labor as a general business owner who conformed to standards, and acquired the third "Next Generation Certification Mark" (nickname: Kurumin). We will move on to formulate and promote the 5th Action Plan (FY2018-2020).
5th Action Plan Goals and Measures (Period: April 1, 2018 to March 31, 2021)
Goal
Measures
Improve the employment environment to support the balance between work and family life for employees raising children

Developing an environment that allows flexible working styles (balancing fight against illness and work, balancing childcare and nursing and work, etc.)
Raising awareness to encourage male employees to take childcare leave
Implement measures to support female's advancement

Promote measures to reduce overtime hours and encourage employees to take annual leave

Reduction of overtime work using attendance data
Develop and promote measures to encourage employees to take annual leave

Provision of work experience opportunities such as internships for young people
Human Resource Development
Nichiban conducts educational training aimed at developing human resources who are rich in expertise and creativity, and who are eager to take on new fields. After joining the company, students acquire the basics of being a working adult in Nichiban, with a focus on class-specific education, and then developing specialized skills, centered on specialized education, according to their role.
We are also promoting the development of global human resources to expand our overseas business. Employees are working hard to provide distance learning and open recruitment training.