Nichiban Group Product Policy

Quality Guarantee by Nichiban

Efforts to solve quality and environmental issues lead to quality assurance and environmental protection.
Nichiban Group believes that improving productivity and stabilizing quality in daily operations will achieve quality assurance and environmental conservation.
In terms of quality, we are working to strengthen our system to prevent quality risks based on the Nichiban Group Quality Policy. At each stage of product development design and manufacturing, we operate mechanisms to prevent problems before they occur, and continually review them to ensure that they function effectively. In the event of a problem, we also consider the background and cause, and work to prevent recurrence. We believe that it is important to improve quality from the customer's perspective in order to provide products that are safe and satisfying, and we are working on improvement activities throughout the production division.
On the environmental front, based on the Nichiban Group Environmental Policy, we are working on environmental management based on ISO14001 and aiming for continuous improvement. Since organic solvents are used in the production process, we are taking full consideration of the environment around our production bases, thoroughly managing them, and promoting initiatives to eliminate solvents. Since reductions in energy consumption, such as CO2 reduction, and productivity improvement are linked, we are conscious that daily improvement will lead to a reduction in environmental impact, and we are setting reduction targets.
Nurture human resources that can be improved and realize quality assurance as an organization.
Now that the operations have been completed to a certain degree after 20 years of ISO acquisition, there are operational issues that make it difficult to deal with essential problems. At production sites, we focus on human resource development to deepen our fundamental understanding of the framework. There are four main activities:
1.

Prepare a guidebook for improvement activities and show the skills required for such improvement activities.

2.

Share the PDCA for improvement at regular meetings where quality managers from each plant gather.

3.

Utilize information from customer support department and process information to create a mechanism that allows you to notice abnormalities.

4.

Conduct presentations of improvement activity at each factory and review activities at each plant at company-wide presentations.
In addition, each factory at the production base must ensure absolute safety and security in the environment, and must continue to be trusted by the local community. It is natural to manage and promote production activities in compliance with laws and regulations, and to provide informed knowledge by inviting local residents, experts, and local government officials to hold briefing sessions and opinion exchange meetings, thereby providing information carefully
The Quality Assurance Division is working to improve the quality and environmental activities of the entire company. We will continue to develop human resources and build and strengthen a system to achieve quality assurance with the aim of delivering high quality products and becoming a company trusted by customers.
Management System
JIS Standards Declaration of Conformity
Our Self adhesive cellulose tape has been certified by the government and has been marked with the JIS mark (JIS Z 1522 permission number 468006). We will change it to "Declaration of Conformity", a method of proving conformity.
What is Declaration of Conformity?
Based on the "Industrial Standardization Law," JIS Q 1000: 2005 (conformity evaluation-guideline for declaration of conformity to product standards) means to certify conformance to the relevant JIS standards in-house. Both methods of JIS mark display and declaration of comformity are proof that they conform to JIS Z 1522. We implement and operate a declaration of conformity according to this standard.
Declared Product
CELLOTAPE
(Excluded products:CELLOTAPE EASY OPEN,CELLOTAPE FOOD PACK TAPE,CELLOTAPE No.450)
Declaration of Conformity
ISO acquisition status
Our company has registered ISO9001 and ISO14001.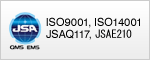 Nichiban's Sustainability and CSR