Corporate Governance
We have established an internal control system to allow corporate governance to function effectively, and are working to improve management soundness as well as efficiency. The Board of Directors is composed of nine members, including three outside directors. To further strengthen its functions, a Management Strategy Committee and Management Executive Committee are held. The Audit & Supervisory Board cooperates with the Internal Audit Office and the Accounting Auditor to conduct audits on business conditions. To further ensure compliance with laws, the articles of incorporation, and internal regulations, the company has established an Internal Control Committee and an Ethical Violation Consultation desk.
Compliance
Nichiban has established "Nichiban Group Ethics" in order to share thoughts on compliance with all employees. Based on this "Nichiban Group Ethics", we have created the "Nichiban Group Action Handbook" as a specific guide to put these ideas into practice in our daily activities, which is distributed to each member of the group.
The Nichiban Group Action Handbook is reviewed once a year to respond to changes in the social situation and related laws and regulations as needed, and to ensure thorough awareness during training sessions and meetings to ensure compliance throughout the group.
Nichiban Group Ethics
Basic Policy
We recognize that "a corporation is a public institution" and fulfill our social responsibilities through activities based on the action guidelines.
Behavioral Guidelines
1.

Compliance with Laws and Regulations

We conduct fair and transparent corporate activities in compliance with the law and in accordance with social norms.

2.

Providing Useful, Safe and Secure Products

We place the utmost emphasis on quality, safety, and the environment, and by improving our customer satisfaction through our products, enhance the trust of our customers and contribute to society. .

3.

Resolute Response to Antisocial Behavior

We will resolutely respond to anti-social actions that threaten the order and security of civil society.

4.

Thorough Information Management and Disclosure

We will properly manage and protect all information related to Nichiban and will disclose corporate information in a timely and appropriate manner.

In accordance with the spirit of the Nichiban Group's ethics, management will establish a leading company structure and thoroughly disseminate it.
Guidelines on the transparency of relationships between corporate activities and medical institutions
October 1, 2016
Nichiban Co.,Ltd.
Based on the business situation that the business domain covers regarding both medical devices and pharmaceuticals, the company has implemented the Japan Pharmaceutical Manufacturers Association's "Transparency Guidelines for the Relationship between Business Activities and Medical Institutions" and "Guidelines for Transparency with Medical Institutions in the Medical Device Industry" of the Japan Federation of Medical Device Industries. The following is an announcement of our guidelines.
With a corporate philosophy of "always creating value that is useful to society, welcoming the new era, and fostering happiness for all those concerned with Nichiban Group'', our company philosophy is actualized through research and development as well as a stable supply of adhesive products. Our mission is to continuously support providing comfortable lives to people.
To fulfill that mission, we must cooperate with both research institutions and medical institutions, such as universities, to respond to high medical needs.
With the cooperation of universities and other research institutions and medical professionals, we hereby announce that we aim to increase the transparency of the relationship between business activities and medical institutions and become a company that can gain high trust from society.
This guideline states that the pharmaceutical and medical device industries contribute to the development of life sciences, including medical and medical engineering, by ensuring the transparency of our activities with medical institutions and other corporate activities. The aim is to gain a broad understanding of what is done with high ethical standards.

The method of publication will be disclosed on the website.

Related information from the 2015 fiscal year onwards has been released since October 2016.

Regarding disclosure targets, we follow the Japan Pharmaceutical Manufacturers Association's "Transparency Guidelines for Relationships between Business Activities and Medical Institutions" and the Medical Device Industry Federation's "Transparency Guidelines with Medical Institutions in the Medical Device Industry".
Risk Management
Emergency Response
Nichiban has established "Emergency Response Rules" in preparation for a large-scale disaster or emergency, has defined the initial response system and procedures, and conducts regular training.
In preparation for a natural disaster such as a major earthquake, we distribute the "Initial Manual at the Time of Disaster" to all group employees to ensure the safety of our employees, and indicate the actions to be taken. In addition, we have established a system to quickly confirm safety using the "Safety Confirmation System". In addition, we store a few days' worth of drinking water and food in the event of lifelines being cut off or people being unable to return home. We will prepare for disasters with this kind of crisis management system and continually review and strengthen the system.
Business Continuity Plan (BCP) Initiatives
Nichiban has established the Nichiban Group Basic Policy on Business Continuity Plan (BCP) to define the basic concept in the event of a major disaster that affects business continuity.
The BCP Committee has been set up since FY2013, with the establishment of the main meeting body of the company existing since FY2013. Based on the two steps of initial response in the event of a disaster and business continuity-recovery, we are working on actions to be performed at each stage as well as extracting and documenting potential problems, and taking all possible precautionary measures. In particular, as a manufacturer, we are keenly aware of our product supply responsibilities and are making preparations to maintain product supply as much as possible. Some measures are being implemented in advance.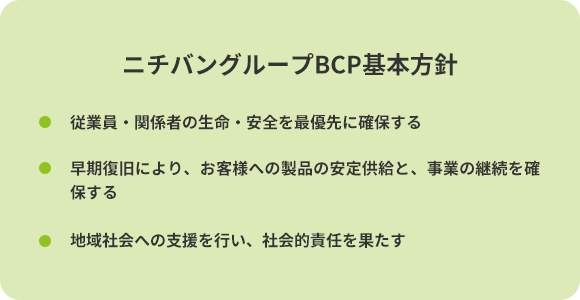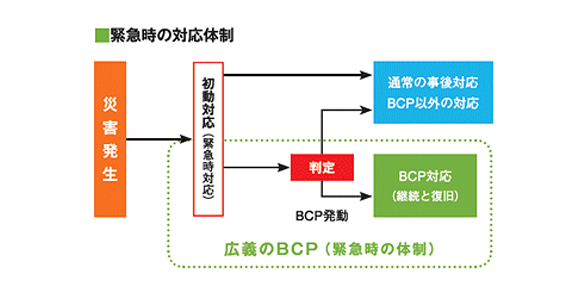 Engagement through IR Activities
To communicate with the shareholders, we regularly issue reports summarizing our business activities. In addition, as a shareholder benefit program, shareholders who hold 100 shares or more receive an assortment of products worth 3,000 yen once per year. For institutional investors and securities analysts, we respond to individual interview requests as needed and hold financial results briefings twice a year. In addition, we strive to provide timely and appropriate IR information through our website and the email distribution of IR news.