Gently sticking close to you.
Aiming for such a futureFor 100 years
And for the next 100 years
Our company started its business by manufacturing and selling adhesive plasters, various other forms of plasters, and ointments and is currently contributing to greater comfort in the people's lives through providing "Adhesive" products in wide ranges of fields based on adhesive technology accumulated through our experience developing adhesive plasters.
The Nichiban Group will continue to be at your side
From Japan to the World
We produced a video based on the concept of our Medium and Long Term Vision called the 『NICHIBAN GROUP 2030 VISION』 in order to realize our vision of being a company based on solid corporate quality as the next step in our growth as the Nichiban Group.
Working towards the realization of truly being a "Company continuously contributing towards greater comfort in people's lives through innovative technologies that add new value."
From April 2019, based on the newly formulated Nichiban Group Philosophy, our mission is to place great importance on the relationships and bonds between everyone as well as fostering happiness for all those concerned with Nichiban Group for the next 100 years. Corporate activities will follow this mission plan moving forwards.
About Nichiban
We know Tape
Nichiban - The Tape Company We have been loved by customers for over 100 years and have been drawing close to people all over the world. Nichiban respects people's cooperative relationships and strives to foster prosperity and happiness for all stakeholders of the Nichiban Group, and we continuously strive to contribute to the comfort of people's lives through value-added technologies in the field adhesives, which is its base of expertise.
Selected by All Customers

About For more than

100

years

Employees

Consolidated

1,255

Name Non-consolidated

743

Name*1

Number of products

About

18,000

pieces*1

Sales

431

Hundred million yen*2

Offices

Domestic

17

Offices Overseas

2

Offices

Overseas countries exported to

About


50

countries*2
*1 March 31, 2022, *2 Fiscal year ending March 31, 2022
Trustworthy Nichiban Products
Building trust with our customers through our products
Based on our unique adhesive technology, we at Nichiban are creating a variety of valuable products that contribute to people's health, comfortable living, business scenes, and industrial development. Our "Medical Business" is based on medical products that take people's daily lives into consideration in addition to medical facilities. Our "Tape Business" is based on consumer products that provide adhesive products manufactured using our unique technologies for office systems, and based on industrial-use products that support everything from cutting-edge industries to agricultural and logistics businesses. Through development of these two businesses, we will continue to look to the future and strive to contribute to the formation of a prosperous society.
Self Adhesive Cellulose Tape Series
"You don't appreciate them until they're gone; Parents, Health, and Self adhesive cellulose tape"
In addition to self adhesive cellulose tape, most adhesive agents, cores, and raw materials are made from natural, plant-based raw materials instead of plastics. We are able to guarantee the safety of our products because we take time and great care when making each one.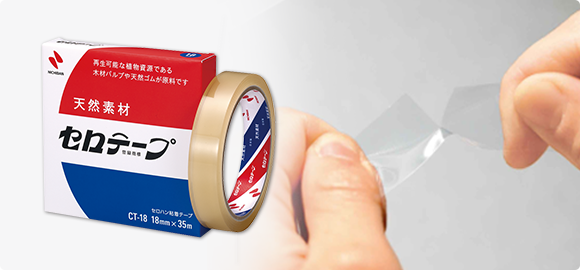 CATHEREEPLUS™ Series
The Nichiban Group developed the industry's first urethane gel adhesive based on years of researching adhesive technologies. Film dressing material that uses a urethane gel adhesive The CATHEREEPLUS™ Series realizes unprecedented "breathability," and is both "gentles on skin" and "difficult to peel off." It has high breathability, which prevents skin maceration, and maintains a stable adhesion for a long period of time while reducing skin irritation. It can be used for elderly and infant patients who have sensitive skin.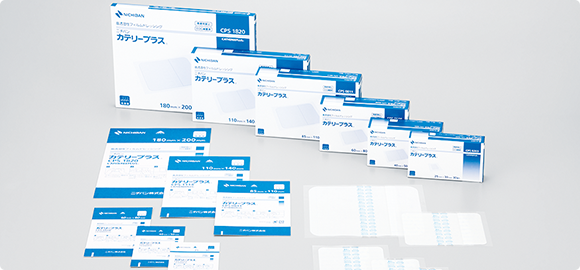 CARELEAVES™ Series
As a leading producer of first-aid bandages, we have been pursuing comfort that is not available with conventional products, and since CARELEAVES™ was launched in 1997, which comes in various series and sizes, people have become familiar with our commitment to quality. Our desire is for CARELEAVES™ to further evolve based on the feedback of customers from around the world.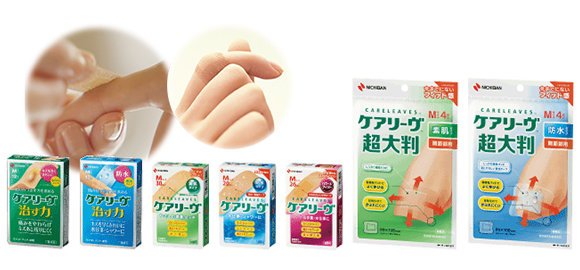 From Development to Realization
Similar to life itself, good technology is always evolving. One technologies are born, mature, produce new technologies, and are then passed on to the next generation. Nichiban has been working in this way since it was established in order to develop new technologies. As we look ahead to the future, we are conducting research every day to realize unprecedented advances in technology. This activity is Nichiban's lifeline as we aim to be a "trustworthy company." As a company that has studied a wide range of products for decades, we have identified specialized themes, and have been working on projects that will lead to a new future.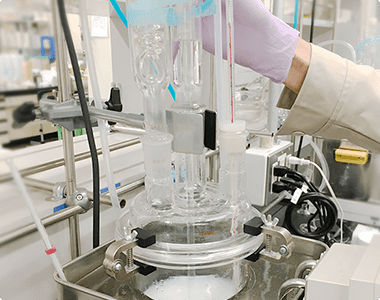 Nichiban's Efforts
Toward promoting ESG management
The Company Group's basic philosophy is that "Nichiban respects people's cooperative relationships and strives to foster prosperity and happiness for all stakeholders of the Nichiban Group." In other words, our philosophy is to first establish an environment where employees can feel happy, and then connect this happiness to all stakeholders. In recent years, there has been a demand for ESG-focused management and initiatives for SDGs. Therefore, we will promote our businesses toward a sustainable society.
Sticking to your needs
Expressing the Nichiban Group's corporate policies of contributing to a comfortable and healthy life in the future through utilizing the Nichiban Group's strength in adhesive technology.