Based on our basic philosophy of "Striving to foster the prosperity and happiness for all stakeholders of the Nichiban Group," the goal of the Nichiban Group is for our business activities to coexist with society and nature, and to promote efforts that contribute to the sustainable development with our stakeholders.
Nichiban Group Crisis Management Policy
Basic Policy
We will implement predictive and preventive measures before facing critical issues that threaten our business, and if such occur, we will minimize any potential damage and take measures to prevent recurrence in order to properly manage crises while ensuring continuous and stable business development.
Action Guidelines
1.

Promoting crisis management awareness

We will promote awareness of crisis management throughout the Nichiban Group, work to predict and detect serious crises that threaten continuous and stable business development, and will also take preventive measures.

2.

Crisis Management Scope

We understand that crisis management targets include anything that could cause serious damage to the Nichiban Group such as through financial loss, interruption of business, and loss of credit and brand image.

3.

Response to Crisis Management Targets

We will respond in the following ways to anything identified as a crisis management target.

1)

Predict and prevent crisis management targets

We will anticipate risks related to crisis management target events by assuming the worst possible scenario, and will then formulate and implement preventive measures.

2)

Establish initial response measures and training

We will establish initial response measures and provide education and training to minimize damage from crisis management targets.

3)

Respond during a crisis

In the unlikely event of a crisis, we will immediately implement predetermined response measures to minimize any damage.

After a crisis, we will investigate the cause, and then formulate and implement measures to prevent recurrence.

4.

Communicate and disclose information properly

If a crisis occurs, we will properly notify necessary information to relevant departments while also disclosing the proper information at the appropriate time.

5.

Thoroughly implement the crisis management policy

In harmony with the spirit of the Nichiban Group Crisis Management Policy, business managers will work to establish a crisis management system even during normal operations and take initiatives to minimize loss and damage to the Nichiban Group, and will work hard to maintain and improve the brand image through continuous business operations.
Nichiban Group IT Security Policy
Basic Policy
In order to provide customers with products and services that give satisfaction, we will protect our information assets in today's advanced information society from threats such as accidents, disasters, and crime, and establish an IT Security Policy to gain the trust of our customers and society, making it the guideline for the Group's information security initiatives.
Action Guidelines
1.

Organize internal systems and IT security regulations

We will organize management systems necessary for maintaining and improving IT security, and will establish necessary IT security measures as our official inhouse rules.

2.

Responsibilities of leadership and continuous improvement

Management will take the lead to ensure that Group and customer information assets are properly managed in compliance with this policy.

We will acquire the knowledge and skills necessary for maintaining and improving IT security in order to ensure that information security is implemented.

4.

Comply with required items based on laws, ordinances, and contracts

We will comply with laws, ordinances, regulations, and rules related to information assets used in our business activities, and comply with security requirements stipulated in contracts with customers.

5.

Respond to violations and accidents

We will organize a system for responding to violations of laws and ordinances, regulations, and rules related to information security, and violations of contracts with customers in order to reduce any impact from violations and incidents.
Selection Method
Based on the concept of sustainability, we have identified three important themes for management in order to realize the "NICHIBAN GROUP 2030 VISION." Themes were selected in harmony with the Nichiban Group value chain based on their importance to business and the demands and expectations of society.
1

Extraction of issues

Initial evaluation items for social issues were extracted based on evaluation items and various guidelines from SDGs and ESG evaluation agencies.

2

Selection of important themes that need to be addressed by the Nichiban Group

Management, including directors, auditors, and executive officers from related departments evaluate important issues for the Nichiban Group. Important themes that need to be addressed by the Nichiban Group are selected.

3

Inhouse approval

The Management Strategy Committee and the Board of Directors deliberate and give approval.
Important Sustainability Themes
Main Business
| Theme | Major Initiatives |
| --- | --- |
| Contribute to reducing environmental impact through self adhesive cellulose tape, which is a natural product | Promote the fact that the main raw materials are natural, that a Biomass mark was acquired, and that it is an environmentally friendly, recyclable, and ecological product, and differentiate it from tapes that use plastic films, etc. |
| Contribute to preventing infectious diseases through bandages and hemostatic products | Activities that raise awareness of hemostatic products to prevent infectious diseases |
| Contribute to medical treatments through transdermal therapeutic drugs | Develop new transdermal therapeutic drugs to help cure diseases and maintain healthy lives |
| Make effort to reduce household food loss through the use of adhesive tapes | In addition to sealing food bags, offer proposals to prevent food loss by writing information such as the date of purchase, preparation date, and expiration date of the ingredients on the tape used as a label |
Related SDGs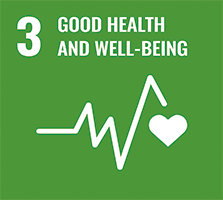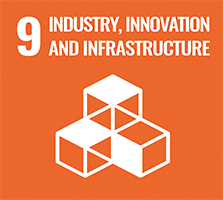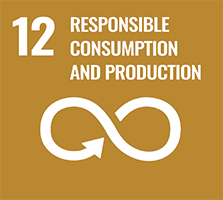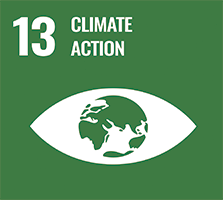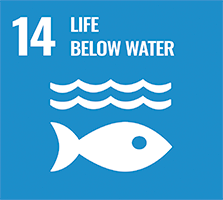 Environment
Theme
Major Initiatives
Developing environmentally friendly products

Developing products that contribute to the resolution of environmental and social issues
Acquiring environmental labels

Reducing the burden on the environment
(Operating an environmental management system)
(Disclosing environmental information)
Breakdown
Give consideration to the depletion of resources

Reduce waste through the effective use of raw materials
Use water efficiently and improve management of wastewater treatment

Promote initiatives that fight climate change and global warming
Reduce CO2 emissions through efficient use of energy
Properly manage chemical substances

Promote the green procurement of raw materials
Reduce the amount of solvents used by creating new technologies

Activities that conserve biodiversity

Plant trees as part of the Nichiban Tape Core Recycle ECO Project
Enlightenment activities through classes at elementary schools
Related SDGs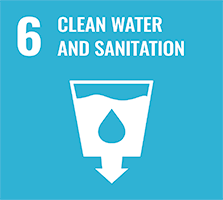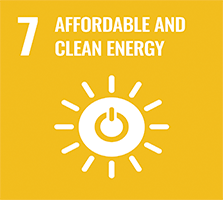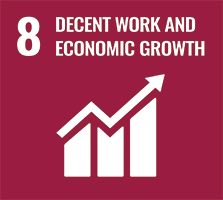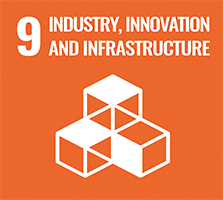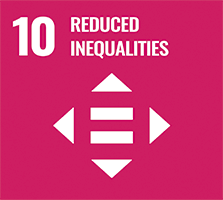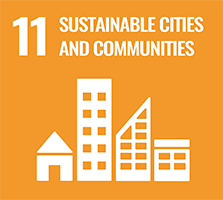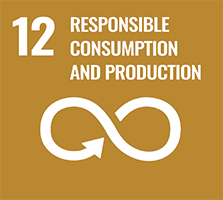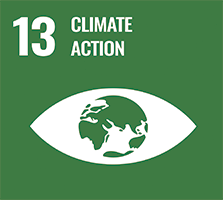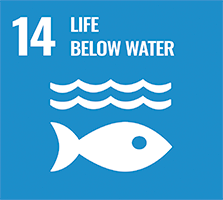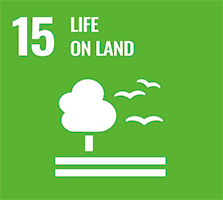 Society
Theme
Major Initiatives
Improving product quality and ensuring safety

Operating a quality management system
Improving customer satisfaction

Promoting diversity and fostering human resource development

Promoting the participation of women and employing people with disabilities
Fostering the development of human resource for sustainable growth in the future

Responding to occupational safety and health, and the health of employees

Promoting action plans by acquiring next-generation certification marks
Managing the health of employees
Related SDGs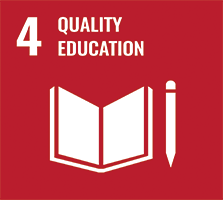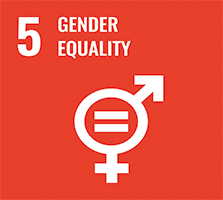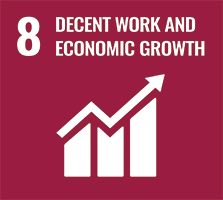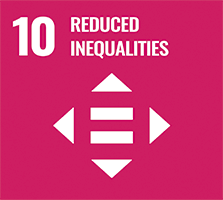 Governance
Theme
Major Initiatives
Strengthening our corporate governance system
Organizing our internal control system
Compliance

Thoroughly implementing compliance (Education based on the action handbook)
Improving the internal reporting system

Risk management

Conducting emergency response drills
Organizing a stable supply system by BCP/BCM

Strengthening information security
Improving IT control
Related SDGs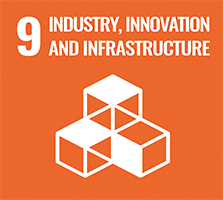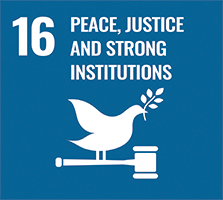 Important Sustainability Themes for the Value Chain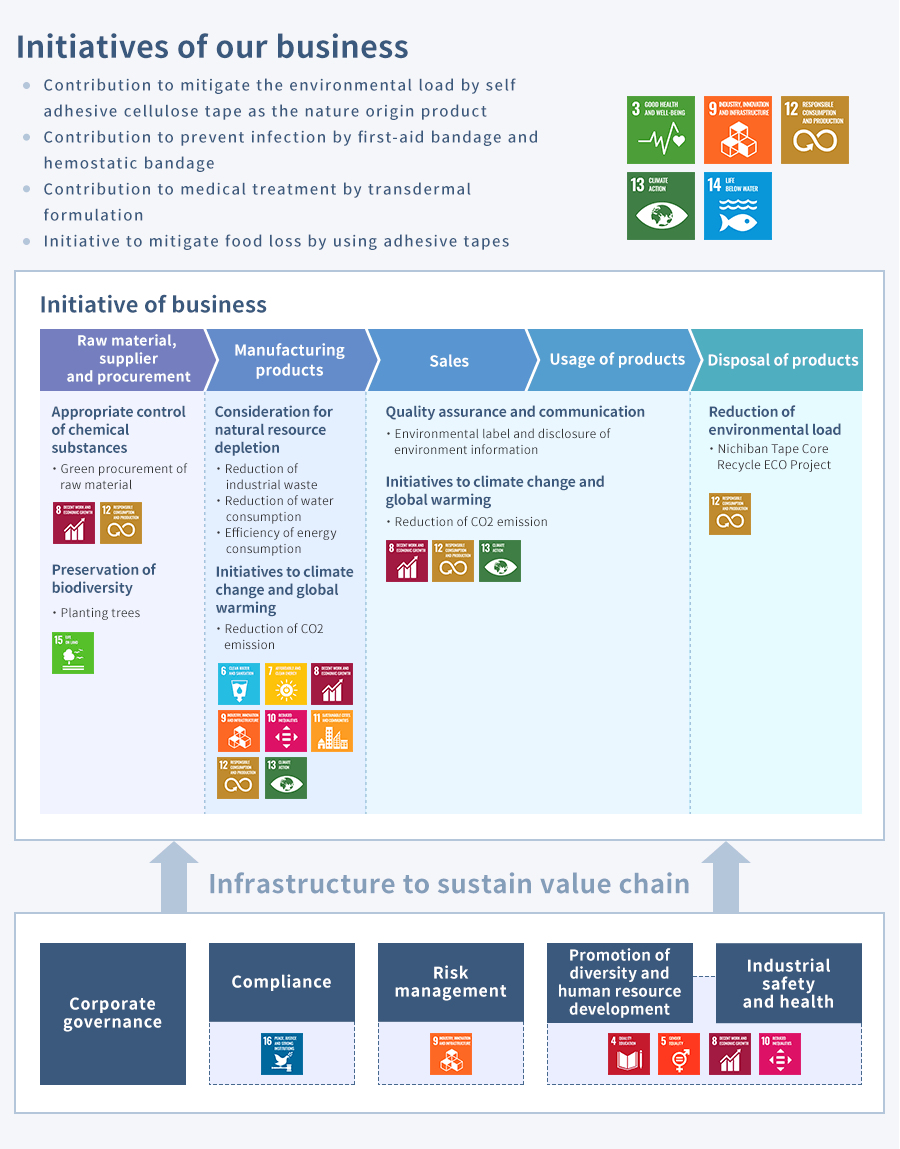 Nichiban's Sustainability/CSR