We build trust with customers through our products.
Through our Products
Analgesic and anti-inflammatory cream "ROIHI
™

Cream Felbi"
ROIHI™ Cream Felbi (a class 2 pharmaceutical) has adopted a roll-on type, the industry's first cream analgesic and anti-inflammatory. This product is a warming type that contains 3% "Felbinac" which works directly for pain, and can be applied directly to the affected area without soiling the hands. It can be applied to a wide range of areas, not only for stiff shoulders and back pain but also for joint and muscle pain in the knees or soles and the like, without dripping.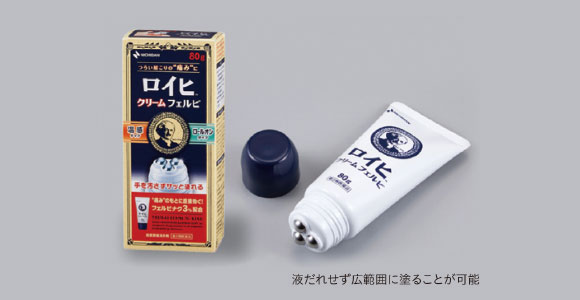 Comment from the Developer
The "ROIHI™" series was a lineup of products in paste form only, such as the "ROIHI vase plaster™"; in order to meet a wide range of needs of our customers, we have planned out an analgesic and anti-inflammatory cream. As it is a roll-on type, there is no more "making a mess on your hands" which is often mentioned as a point of dissatisfaction among gels and creams, and there are three stainless steel balls at the tip, so if you apply it like massage, the active ingredient will directly penetrate into the affected area, giving you a pleasant stimulus.
Suture dressing "SURGIFIT
™

(SURGIFIT

™

)"
Achieving the water absorption and wound visibility required for suture dressing "SURGIFIT™ (SURGIFIT™) Highly absorbent fibers, which absorb water four times faster than conventional products, are used for the pads. Blood and exudate are less likely to accumulate in the wound, and an opening is provided so that the wound can be observed. In addition, the use of a highly moisture-permeable, low-irritant urethane gel adhesive on the tape prevents the skin from being stuffy and reduces damage to the keratin when peeled off.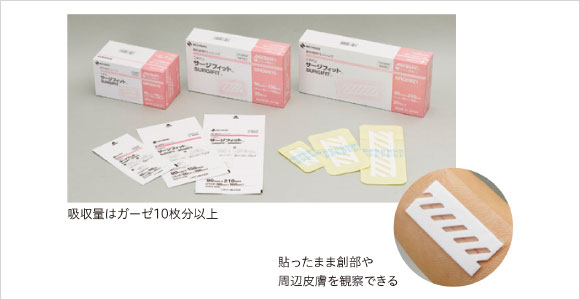 Cellulose Tape Dispenser Straight-Cut
Cellulose Tape Dispenser Straight-Cut(1 inch Core) has been released. With the new cutter blade, the shape and angle of the blade are devised such as to make the jagged part of the blade finer and denser. This makes it possible to cut the tape straight and neatly even with a safety-designed plastic, small wound cutter that is less likely to cause injuries. In addition, since the cutting edge is straight, it is difficult to create a tear when peeling off the tape, and therefore sealing and wrapping work can be performed neatly. Available tape widths are 12mm, 15mm and 18mm, to be selected according to your application.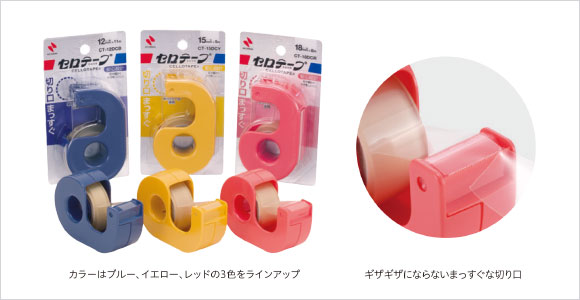 Comment from the Developer
Self adhesive cellulose tape with a small-wound cutter <straight-cut type> makes it easy to neatly cut what could previously only be achieved with a metal blade. This is achieved through a resin cutter which is less likely to injure small children. At first, it was difficult to form the resin into the fine part of the blade at the time of molding, however due to the ingenuity at our plant, mass production is now able to be reliably performed. We will continue to take on these challenges and deliver products that are good for our customers.
Two new types from the "Dear Kitchen
™

Wazaari

™

tape series
Wazaari™ Tape can be easily cut by hand, so no scissors are required. This tape can be used in refrigerators (4 ° C) and freezers (-18 ° C) and is easily removable with little sticky adhesive residue. The series first <patterned type> uses white as the base color so that written characters such as a date or contents are easy to read. The pattern switches every 5cm, so it can be used as a guide when deciding the length. In addition, a 15mm wide tape that is 10mm thinner than the standard type is available as <narrow width type>. Since it is narrow, it can even be stuck firmly on the curved surface of small storage containers as well as round containers, and it is easily visible even if it is stuck on the side of a freezer bag, etc. You can check everything at a glance from above.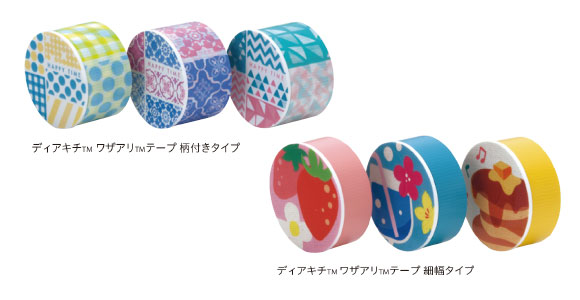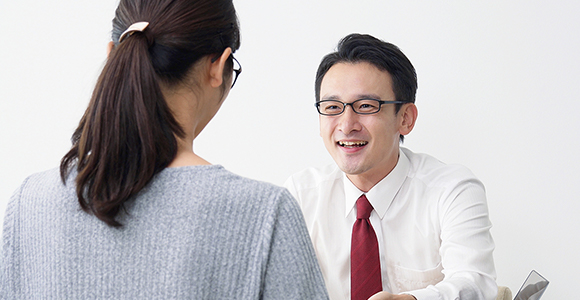 Diverse communication that correctly communicates the value of products
It is essential that you use the product correctly in order to fully realize the effects of the product. Nichiban engages in a variety of forms of communication to convey the value placed on having our customers safely use our products with peace of mind.
Diverse communication that correctly communicates the value of products