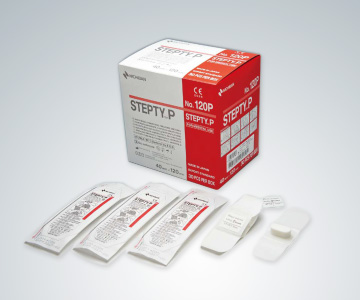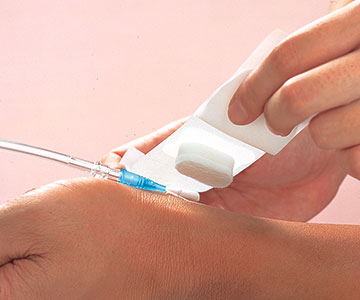 Our products
For stopping the flow of blood by using pressure immobilization after removing an indwelling needle in the radial artery or the dorsal pedis artery.
Medical device notification number 40B2X00015131140
Medical supplies (4) Orthopedic instruments
General medical device First-aid bandage
JMDN code 34864000
Key features
Pads that pressurize the skin gently and effectively.
Plates with enhanced pressure and safety.
A tape that stretches in every direction and sustains sufficient pressure.
Stick-on time labels to prevent prolonged use of the product.
Saving time and reducing effort for healing and nursing.
Each tape is individually sterilized by EOG before packaging.
Normally used for artery segments, around 14-18 gauge (average)
*There are many ways to use our puncture protection.
Made in Japan for quality you can trust.
Backing: urethane non-woven fabric
Adhesive: acrylic adhesive
Target: A line (Operation Room), PTCA (Intervention Unit)
The relation of the length of the "STEPTY™P" tapes attached, and the pressure it exerts
The pressure exerted by non-woven urethane fabric adhesive tapes increases with the length of the tape applied. About 2 cm of tape from each side will provide an efficient level of pressure (Approx. 100 mmHg), maintaining approx. 80% of its original power after 1 hour of use.
Thermograph of palms with "STEPTY™P" attached
Comparison of palms after applying "STEPTY™P" for 2 hours and not using the product. No difference in the temperature of the skin surface is detected, proving that there is no reduction in blood flow.
How to use this product
How to Use STEPTY™P(2:40)
Applications
Haemostasis or protective covering for the radial artery and dorsal pedis artery after punctures received from measuring arterial pressure or blood gas.
Precautions
Do not reuse the product
If wounds become clinically infected while using the product, please stop its use and seek appropriate treatment.
If you develop skin lesions (e.g. rashes, flares or itching) while using the product, please stop its use and seek appropriate treatment.
Always take out the needle before attaching the product to avoid damage to the skin or the blood vessels.
Please note that lengthy use of the pressurizing tapes will create excessive tension causing stress on the skin.
We suggest you remove the product in approx. 2 hours to avoid stress on the skin.
The product should always be removed by a doctor or a nurse after use.
On removal of the tapes, keep the taped area and the client him/herself at rest and observe them for a few minutes to make sure the bleeding has completely stopped.
If the pressure is not enough, please apply appropriate measures such as pressure hemostasis with your hands.
Please cover and protect the needled site to prevent infection after removal. In case the product gets wet or tainted, please take it off and apply a fresh pad immediately.
If the product package is defaced, broken or wet, please avoid using it.
The product should be used immediately after the seal is broken.
Peel off the pad slowly along the flow of your body hair to prevent skin injuries upon removal.
Storage
Store in a shaded area at room temperature, away from water, high temperatures, high humidity and direct sunlight.
Specifications
Product number
Size
per box
Tape area
Pad area (9 mm thick)
Plate area
No.120P
40 mm × 120 mm
27 mm × 15 mm
36 mm × 30 mm
30 sheets