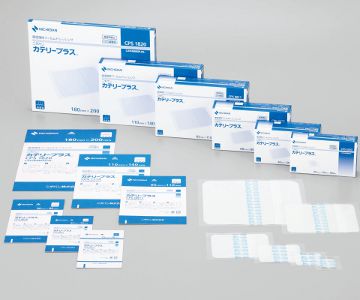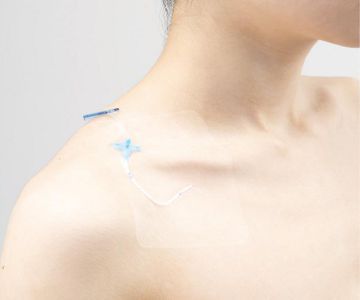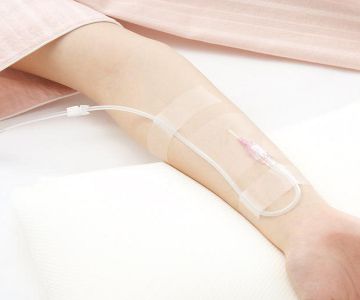 Our products
Adding 3 compassions

Usually, it was quite diffucult to develop the adhesive which is possible to offer "tenderness for skin" and "uneasy removal" desperately desired by the medical staff because they are totally opposite features.
Thanks to our newly-developed urethane gel adhesive, CATHEREEPLUS™ offers unprecedented moisture permeability/breathability levels (based on a NICHIBAN comparison), allowing the product to be both gentle to the skin and hard removal.
CATHEREEPLUS™ provides "new solution in fixing ," adding 3 heartful care of "high permeability/breathability," "high adhesiveness," and "low irritation."

<<Sterilized by E.O.G>>
Key features
High permeability/breathability offeres you long lasting dryness.
The newly-developed urethane gel adhesive provides nearly seven times higher moisture permeability/breathability than normal acrylic adhesives. Possible to reduce sweaty and be comfortable in a long time use.
Stable fixing for a good relief
Urethane gel adhesive is coated in the whole part of film evenly so possible to have close adhesion in the skin. The flexible film follows the motions of the skin and possible to give you stable fixing for a long time.
Low irritation for a gentle skin feel
An appropriate adhesion reduces any removal of keratin and damage when it's removed. Also, the stretch film reduce any skin stress during use. Possible to use in gentle feeling without any skin rash and pain from removal.
How to use this product
Precautions
Do not reuse the product
While using this product, in case that any clinical infection occurs at the wound site, stop usage and administer proper treatment.
While using this product, in case that any symptoms of skin problem concern (rash, redness, itchiness, etc. ) appears, stop usage and administer proper treatment.
Do not use in case that any dirt, wet or damaged are found.
Use immediately after opening the package.
When removing this product , remove it slowly in the direction of the body hair not to injure the skin.
Storage
Storage method: store at room temperature away from heat, humidity, direct sunlight and wet.
Expiry date: Displayed on box (as self-authenticated data)
Specifications
| Product number | Size | per box |
| --- | --- | --- |
| CPS0203 | 25mm×30mm | 30 sheets |
| CPS0405 | 40mm×50mm | 50 sheets |
| CPS0608 | 60mm×80mm | 35 sheets |
| CPS0811 | 85mm×110mm | 30 sheets |
| CPS1114 | 110mm×140mm | 25 sheets |
| CPS1820 | 180mm×200mm | 12 sheets |