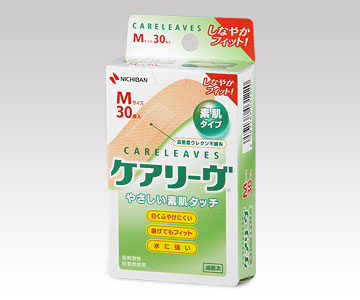 Our products
First-aid bandage made of high-density polyurethane fabric.
Attachment
Key features
Sticks firmly to fingers and flexural areas.
Polyurethane fabric and adhesives discharge sweat and minimize skin maceration.
Gentle to the skin and less irritating
The product scarcely damages the corneocyte, so skin irritation and stress are reduced.
What is polyurethane fabric?
The fabric is made from synthetic fibers that flex like rubber.
A high-density polyurethane fabric, created from half size ultrafine fibers.
The diameter of the "high-density polyurethane fabric" used to make "CARELEAVES™" is half of traditional fabrics. These thin fibers create pleasing and delicate touch. This product extends to every direction and fits various body area, because the high-density polyurethane fabric is elastcized. Surface of the product is embossed and less represented.
Individual packaging, easy-to-carry
Individual package is durable and portable.
How to use this product
Place a pad on the wound and stick the tape on the skin.
Intended purpose
Protecting or covering wounds
Precautions
Do not reuse the product.
Keep the wound clean; take care not to place the sticky part of the tape onto the wound.
If the padded area becomes tainted with water etc., please substitute it with a fresh tape.
If the product causes rashes, skin flares or itching remove the product and treat appropriately.
Please peel the product off slowly, along the flow of your body hair, to prevent skin injuries.
Storage
Store in a cool, dry place away from direct sunlight. Keep out of reach of infants and young children.
Specifications
Photo
Product number


Piece
W×L×H (mm)
Weight
CL10M
M size, 10 sheets
Individual packaging
1
63×16×118
17g
Inner box
10
180×66×102
205g
Carton box
200
276×520×252
4.6kg
CL20M
M size, 20 sheets
Individual packaging
1
63×20×126
22g
Inner box
10
220×66×102
262g
Carton box
200
531×280×232
5.9kg
CL30M
M size, 30 sheets
Individual packaging
1
63×25×118
30g
Inner box
10
270×66×102
344g
Carton box
200
531×280×282
7.5kg
CL50M
M size, 50 sheets
Individual packaging
1
63×35×118
45g
Inner box
10
185×130×102
507g
Carton box
200
671×424×197
10.9kg
CL100M
M size, 100 sheets
Individual packaging
1
63×60×98
84g
Inner box
10
308×130×101
927g
Carton box
200
526×319×272
9.8kg
CL20-3
M size, 10 sheets
L size, 6 sheets
S size, 4 sheets
Individual packaging
1
63×25×118
24g
Inner box
10
270×66×102
300g
Carton box
200
531×280×282
6.3kg
CL36-3
M size, 20 sheets
L size, 6 sheets
S size, 10 sheets
Individual packaging
1
63×30×118
34g
Inner box
10
320×66×102
390g
Carton box
200
531×280×332
8.5kg
CL16L
L size, 16 sheets
Individual packaging
1
63×25×118
25g
Inner box
10
270×66×102
286g
Carton box
200
531×280×282
6.3kg
CL40L
L size, 40 sheets
Individual packaging
1
90×30×118
41g
Inner box
10
320×93×102
498g
Carton box
200
531×388×322
10.6kg
CL30S
S size, 30 sheets
Individual packaging
1
63×20×118
20g
Inner box
10
220×191×130
240g
Carton box
200
531×280×232
5.4kg
CL16C
Round size, 16 sheets
Individual packaging
1
63×20×118
14g
Inner box
10
220×66×102
179g
Carton box
200
531×280×232
4.2kg
CL10T
T-shaped size, 10 sheets (for fingertips)
Individual packaging
1
75×18×118
21g
Inner box
10
200×78×102
252g
Carton box
200
531×328×212
5.6kg
CL9LL
LL size, 9 sheets (for joints)
Individual packaging
1
75×20×118
26g
Inner box
10
225×78×102
295g
Carton box
200
531×328×237
6.5kg
CL7B
Big size, 7 sheets (for joints)
Individual packaging
1
83×20×132
28g
Inner box
10
228×86×116
323g
Carton box
200
591×353×237
7.2kg
CL5J
Jumbo size, 5 sheets (for joints)
Individual packaging
1
103×20×152
34g
Inner box
10
228×106×136
389g
Carton box
200
691×433×237
8.6kg
CL12H
Fan-shaped size, 12 sheets (for heels)
Individual packaging
1
63×20×118
21g
Inner box
10
220×66×102
243g
Carton box
200
531×280×232
5.3kg
CL2F
Free size, 2 sheets
Individual packaging
1
83×47×145
32g
Inner box
10
242×170×147
430g
Carton box
100
755×354×256
5.1kg