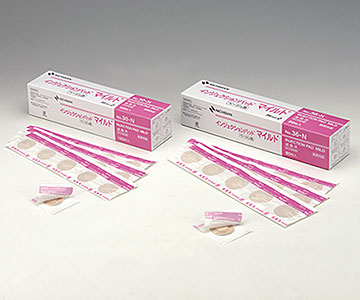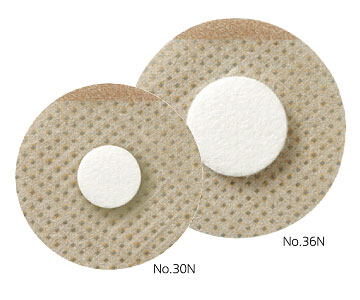 Our products
INJECTION PAD MILD is a hemostatic adhesive bandage. It stops bleeding after injection. It consists a highly absorbent cellulose fabric pad and hypoallergenic adhesives.
Key features
Low irritation
The adhesive tape has excellent moisture permeability and flexibility for minimal irritation. It is gentle on the skin and reduces pain at removal.
Hygienic application and removal
INJECTION PAD MILD is sterilized and can be easily attached to an injected site without touching the pad or adhesive area. The tape also has a tab for easy removal from the skin.
Moderate pressurizing effect
The pad is made from a 3mm-thick layered non-woven cellulose fabric for excellent absorption of blood. A punctured site is moderately compressed.
How to use this product
Applications
Protective covering after intravenous injection, drawing of blood or immunization injections.
Protective covering after arthrocentesis.
Precautions
Stop using and seek appropriate treatment if the wound becomes clinically infected.
Stop using and seek appropriate treatment if symptoms thought to be skin lesions (irritation, redness or itchiness) occur.
Immediately replace the product if it gets wet or dirty
Do not use a product if the package is dirty, damaged or wet.
Use immediately after unwrapping.
Remove slowly along the hair line so as not to damage the skin.
Storage
Keep dry and store at room temperature, avoiding excessive heat and humidity and direct sunlight.
Single use
Specifications
Product number
Size
Per box
Adhesive area
Pad area (3mm thick)
No.30N
30 mmφ
10 mmφ
100 sheets
No.36N
36 mmφ
16 mmφ
80 sheets