Washi(*Japanese Rice Paper) Masking Tape No.227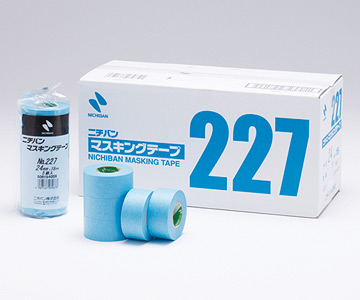 Our products
Excellent for initial adhesive tack applied to the object.
Easy to unwind for exceptional workability.
Key features
Available in overlapping
Possible to use in overlapping tape on tape.
Tearable
Easy cut by hand and excellent workability.
Temporary fixing
Possible to use in any bags and containers for temporary fixing.
Heat Resistant
Possible to remove without adhesion increase and glue-residue after heatingprocess.
Applications
Masking for general purpose of automobile painting.
Product details
Product number: No.227
| Base material | Maximum temperature resistance (°C for 30 mins) | Pressure sensitive adhesive | Thickness (mm) | Peel adhesion (N/10mm) | Tensile Strength (N/10mm) | Elongation (%) |
| --- | --- | --- | --- | --- | --- | --- |
| Washi(*Japanese Rice Paper) paper | 120 | Acrylic adhesive | 0.086 | 1.14 | 32.6 | 7 |
Quantity per carton
Width (mm)
Length (m)
Units included (rolls)
Individual packaging
Inner box
Carton box
12
18
10
100
1,000
15
8
80
800
18
7
70
700
24
5
50
500
30
4
40
400
40
3
30
300
50
2
20
200
Colour
Aqua blue