Cloth adhesive tape 〈LS〉 No.121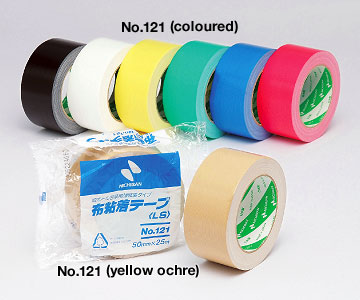 Our products
Tapes made from newly introduced mixed fibres, suitable for packaging heavy products.
Key features
Provides high performance at great value.
Tapes with strong adhesion and excellent retention.
The tape can be easily rewound, helping you work efficiently.
You can tear the tape easily with your fingers.
The tapes come in six standard colours.
Useful for coding and identifying different objects.
Applications
Sealing cardboard boxes and Styrofoam containers
Packing products
Sealing garbage bags
Sorting packages by colour
Product details
Product number: 121
| Base material | Pressure sensitive adhesive | Thickness (mm) | Peel adhesion (N/10mm) | Tensile Strength (N/10mm) | Elongation (%) |
| --- | --- | --- | --- | --- | --- |
| Staple fibre and PET | Rubber adhesive | 0.21 | 5.46 | 53.3 | 7 |
Quantity per carton
Product number
Width
Length
Indivisual packaging
Carton box

121
50 mm
25 m
1
30
121 (coloured)
Colour
No.121 : Yellow orchre
No.121 (coloured) : Red, yellow, green, blue, white, black