Tabanera

™

tape (Transparent type) No.640CPS-BC20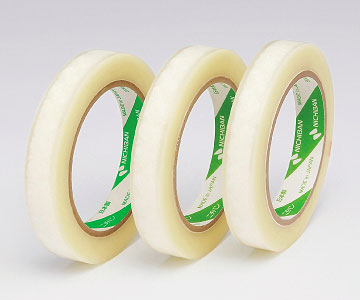 Our products
Tapes for bundling vegetables and processed food products.
Key features
Transparent in colour, useful for bundling and labelling products without detracting from their visual appearance.
The same binding equipment can be used as with the original Tabanera

™

tape.
The tape can be used to bind a product by wrapping the tape around it and joining the ends of the tape together. The adhesives stick the ends of the tape together, but will not stick to the bound product.
Applications
Bundling food products in general, securing articles
Facilitate the labelling of luxury food products
Product details
Product number: 640CPS-BC20
| Base material | Pressure sensitive adhesive | Thickness (mm) | Peel adhesion (N/10mm) | Autohesion (N/10mm) | Tensile Strength (N/10mm) | Elongation (%) |
| --- | --- | --- | --- | --- | --- | --- |
| Polypropylene | Rubber adhesive | 0.058 | 4.84 | 4.2 | 44.9 | 188 |
Quantity per carton
| Product number | Colour | Size (mm×m) | Inner box | Carton box |
| --- | --- | --- | --- | --- |
| 640CPS-BC20 | BC20 (Transparent tapes with vegetable and fruit illustrations printed in white) | 20×100 | 10 | 80 |
Colour
Tranparent tape with white coloured prints