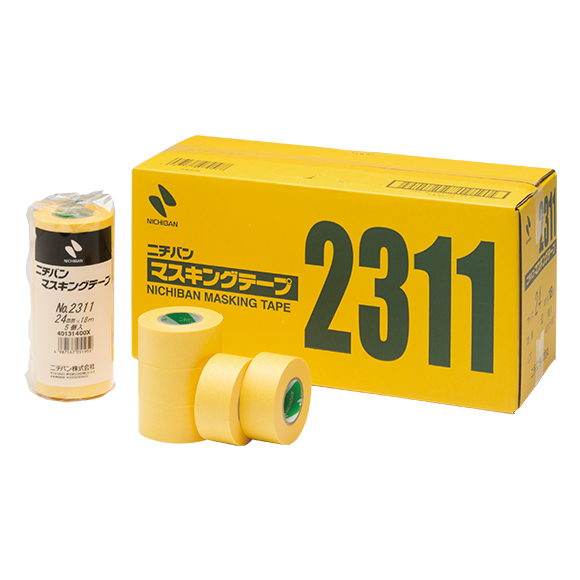 Sticks well when applied in layers.
There is little peeling or adhesive residue left on surfaces even when heat is applied.
Features
Ideal for masking straight lines. Also sticks securely on curved lines and round surfaces.
You can tear the tape easily with your fingers.
Various sizes

Non-standard sizes can also be ordered.

Solventless

No organic solvents are used for production.

Can be overlapped

Tape can adhere its own back surface.

Easy to tear

Tape can be cut by hand and it has good workability.

Temporary adhesion

Temporarily affixes bags and containers for temporary adhesion, etc.

Heat resistance

After heat treatment, adhesive strength does not increase so it can be peeled off without leaving any residue.
Color
Yellow
Applications
For masking when painting vehicles, etc.
Physical Properties
Product number: 2311
| | |
| --- | --- |
| Product name | Washi (*Japanese Rice Paper) Masking Tape |
| Base material | Washi(*Japanese Rice Paper) |
| Maximum temperature resistance (°C for 30 mins) | 120 |
| Pressure sensitive adhesive | Acrylic adhesive |
| Thickness (mm) | 0.091 |
| Peel strength (N/10mm) | 1.02 |
| Tensile strength (N/10mm) | 32.3 |
| Elongation (%) | 6 |
Quantity (rolls)
Width (mm)
Length (m)
Quantity (rolls)
Individual packaging
Inner box
Carton box
9
18
12
120
1,200
12
10
100
1,000
15
8
80
800
18
7
70
700
20
6
60
600
24
5
50
500
30
4
40
400
40
3
30
300
50
2
20
200
15
100
-
16
128
15
211
-
15
60