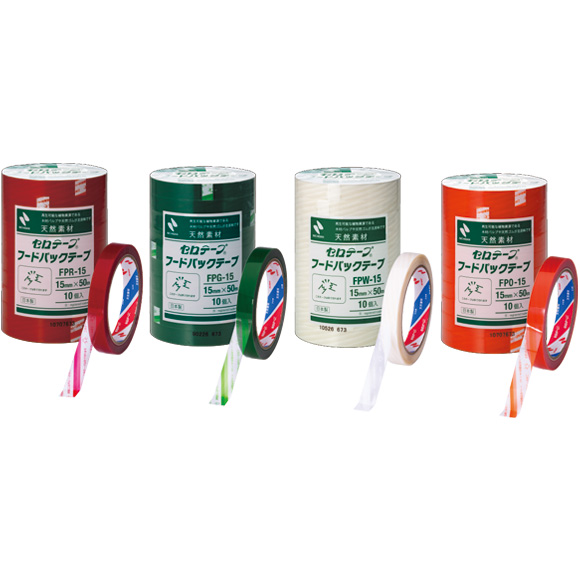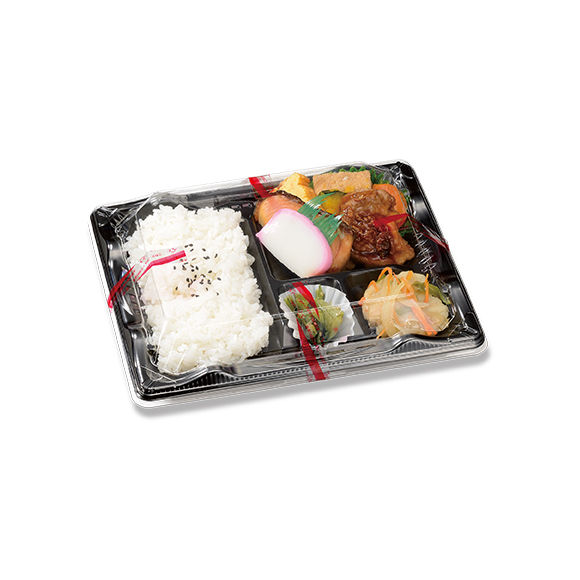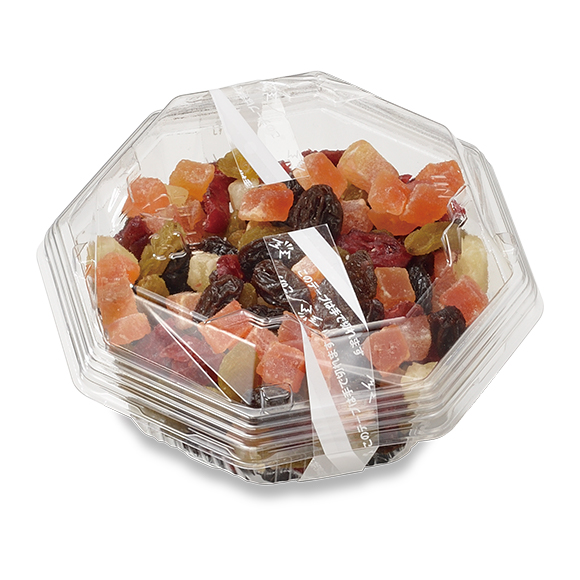 Tapes for safely securing lunchboxes and other food packages with balance between "affixing strength and ability to cut by hand."
Features
Since a cellophane based material and rubber adhesive are used, it can be cut by hand or used with a normal tape cutter.
Light packaging

This tape is ideal for general packaging, sealing plastic bags, and indicating purchase.

Color

Various colors are available.

Environmentally friendly

This tape is designed to help protect the environment.

No. 370 testing completed

Tested according to the Food Sanitation Act, Ministry of Health and Welfare Notification No. 370 of 1959,
Equipment and Container Standards.

Can be overlapped

Tape can adhere the its own back surface.

Easy to open

Tape is easy to peel off after sealing.
Tape for sealing food contains.

Easy to tear

Tape can be cut by hand and it has good workability.
Colors
FPR-15

Red (Tape is transparent)

FPW-15

White (Tape is transparent)

FPG-15

Green (Tape is transparent)
Design (Miniature version)



Applications
For affixing the lids of food containers such as lunch boxes and other food packages.
For attaching and re-attaching seasonings, etc., to food containers.
Physical Properties
Product number: FPR-15
| | |
| --- | --- |
| Product name | Food Package Tape Red |
| Base material | Cellophane |
| Pressure sensitive adhesive | Rubber adhesive |
| Thickness (mm) | 0.051 |
| Peel strength (N/10mm) | 3.99 |
| Tensile strength (N/10mm) | 43.1 |
| Elongation (%) | 22.0 |
Product number: FPW-15
| | |
| --- | --- |
| Product name | Food package tape White |
| Base material | Cellophane |
| Pressure sensitive adhesive | Rubber adhesive |
| Thickness (mm) | 0.051 |
| Peel strength (N/10mm) | 3.99 |
| Tensile strength (N/10mm) | 43.1 |
| Elongation (%) | 22.0 |
Product number: FPG-15
| | |
| --- | --- |
| Product name | Food Package Tape Green |
| Base material | Cellophane |
| Pressure sensitive adhesive | Rubber adhesive |
| Thickness (mm) | 0.051 |
| Peel strength (N/10mm) | 3.99 |
| Tensile strength (N/10mm) | 43.1 |
| Elongation (%) | 22.0 |
Quantity (rolls)
Product number
Size
(Width × Length)
Individual packaging
Inner box
(Inside case)
Carton box
FPR-15
15mm x 50m
10
-
200
FPW-15
FPG-15
Environmental Response