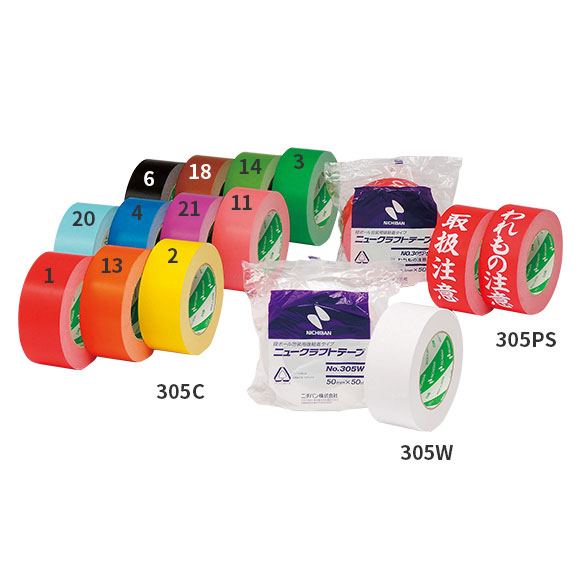 The base color of the kraft paper is pure white, and the tapes come in eleven different bright colors. Tapes with standard print are also available.
Features
Medium packaging

Tape for sealing relatively light products.

Color

Various colors are available.

Solventless

No organic solvents are used for production.

Easy to tear

Tape can be cut by hand and it has good workability.
Colors (Color No.)
No.305W

White

No.305C

Red (1) / Yellow (2) / Green (3) / Blue (4) / Black (6) Violet (21) / Pink (11) / Brown (18) / Orange (13) / Light green (14) / Light blue (20)

No.305PS

Red tape with "HANDLE WITH CARE" or "FRAGILE" printed in white.
Applications
Sealing cardboard boxes, etc.
Identifying packages and other objects by color.
Physical Properties
Product number: 305W
| | |
| --- | --- |
| Product name | New kraft tape |
| Base material | Kraft paper |
| Pressure sensitive adhesive | Rubber adhesive |
| Thickness (mm) | 0.15 |
| Peel strength (N/10mm) | 3.42 |
| Tensile strength (N/10mm) | 72.8 |
| Elongation (%) | 9 |
Product number: 305C
| | |
| --- | --- |
| Product name | New kraft tape |
| Base material | Kraft paper |
| Pressure sensitive adhesive | Rubber adhesive |
| Thickness (mm) | 0.15 |
| Peel strength (N/10mm) | 3.42 |
| Tensile strength (N/10mm) | 72.8 |
| Elongation (%) | 9 |
Product number: 305PS
| | |
| --- | --- |
| Product name | New kraft tape |
| Base material | Kraft paper |
| Pressure sensitive adhesive | Rubber adhesive |
| Thickness (mm) | 0.15 |
| Peel strength (N/10mm) | 3.42 |
| Tensile strength (N/10mm) | 72.8 |
| Elongation (%) | 9 |
Quantity (rolls)
Product number
Length
Individual packaging
Width
38mm
50mm
Carton box
Carton box
305W
50m
1
60
50
500m
-
6
5
305C (All colors)
50m
1
60
50
305C
Only Red / Yellow / Green / Blue
500m
-
6
5
305PS
50m
1
-
50
Environmental Response