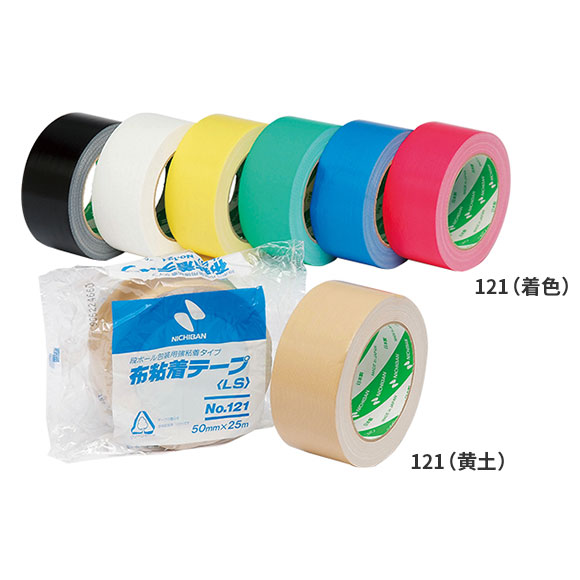 Provides high performance at great value.
Tape has strong adhesive power and excellent holding force.
Features
Tape can be easily rewound, helping you work efficiently.
You can tear the tape easily with your fingers.
The tapes come in six standard colors in addition to yellow ocher.
Medium packaging

Tape for sealing relatively light products.

Color

Various colors are available.

Solventless

No organic solvents are used for production.

Can be overlapped

Tape can adhere its own back surface.

Writable

You can write text such as shipping addresses on it using an oil-based marker.

Easy to tear

Tape can be cut by hand and it has good workability.
Colors (Color No.)
No.121

Yellow ocher

No.121 (Colored)

Red (1) / Yellow (2) / Green (3) / Blue (4) / White (5) / Black (6)
Applications
Sealing cardboard boxes, etc.
Identifying packages and other objects by color.
Physical Properties
Product number: 121
| | |
| --- | --- |
| Product name | Cloth adhesive tapes <LS> |
| Base material | Poly-laminated (Staple fiber + PET) |
| Pressure sensitive adhesive | Rubber adhesive |
| Thickness (mm) | 0.21 |
| Peel strength (N/10mm) | 5.46 |
| Tensile strength (N/10mm) | 53.3 |
| Elongation (%) | 7 |
Quantity (rolls)
Product number
Width
Length
Individual packaging
Carton box
121
50mm
25m
1
30
121 (Colored)
Environmental Response