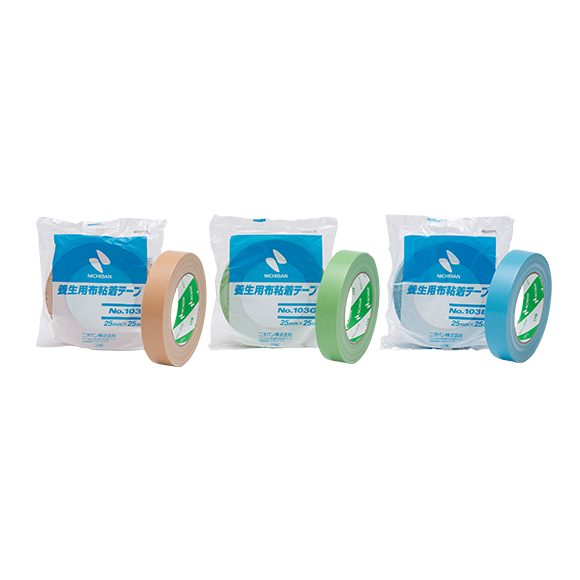 Tape is easy to cut by hand, which improves workability.
There is little residue, and it is easy to remove.
Features
Three colors are available to distinguish the usage purpose.
Various sizes

Non-standard sizes can also be ordered.

Solventless

No organic solvents are used for production.

Can be overlapped

Tape can adhere its own back surface.

Easy to tear

Tape can be cut by hand and it has good workability.

Temporary adhesion

Temporarily affixes bags and containers for temporary adhesion, etc.
Colors
No.103

Yellow ocher

No.103G

Light green

No.103B

Aqua blue
Applications
For curing.
For masking when painting buildings, etc.
Physical Properties
Product number: 103
| | |
| --- | --- |
| Product name | Cloth adhesive tape for curing |
| Base material | Special stapled fiber |
| Pressure sensitive adhesive | Rubber adhesive |
| Thickness (mm) | 0.27 |
| Peel strength (N/10mm) | 2.97 |
| Tensile strength (N/10mm) | 59.5 |
| Elongation (%) | 7 |
Product number: 103G
| | |
| --- | --- |
| Product name | Cloth adhesive tape for curing |
| Base material | Special stapled fiber |
| Pressure sensitive adhesive | Rubber adhesive |
| Thickness (mm) | 0.27 |
| Peel strength (N/10mm) | 2.97 |
| Tensile strength (N/10mm) | 59.5 |
| Elongation (%) | 7 |
Product number: 103B
| | |
| --- | --- |
| Product name | Cloth adhesive tape for curing |
| Base material | Special stapled fiber |
| Pressure sensitive adhesive | Rubber adhesive |
| Thickness (mm) | 0.27 |
| Peel strength (N/10mm) | 2.97 |
| Tensile strength (N/10mm) | 59.5 |
| Elongation (%) | 7 |
Quantity (rolls)
Size (Width mm × Length m)
Carton box
25
25
60
30
48
38
36
50
30