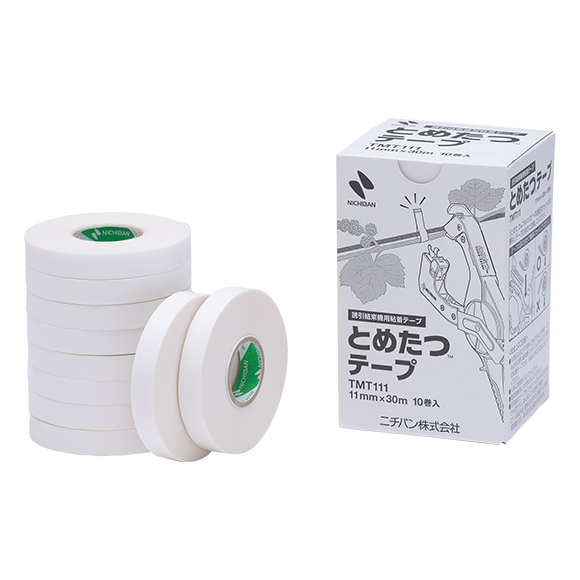 Exclusive tape for the tome-tatsu™ induction binding machines.
Use this together with TMA100LT.
Features
Tape is specially designed so that it only adheres to its own adhesive surface and does not adhere to bundled materials.
Since tape adhesion is used for bundling without using needles, there is no risk of injury or of contamination by foreign materials such as metal.
Items are bundled securely when binding is performed, but after about six months, the adhesive strength (autohesion strength) weakens, making it easy to handle post-processing after harvesting.
For bundling

Tape adheres to itself without adhering to bundled vines and shoots.

Water resistance

Tape does not easily peel off even when it gets wet.
Applications
For binding new grape shoots.
For binding cucumber vines, etc.
Physical Properties
Product number: TMT111
Product name
tome-tatsu

™

Tape
Color
White
Base material
Polyolefin
Pressure sensitive adhesive
Rubber adhesive
Thickness (mm)
0.11
Autohesion (N/10mm)
11.8
Tensile strength (N/10mm)
31.0
Elongation (%)
730
Quantity (pieces)
| Product number | Width | Length | Inner box | Carton box |
| --- | --- | --- | --- | --- |
| TMT111 | 11mm | 30m | 10 | 150 |