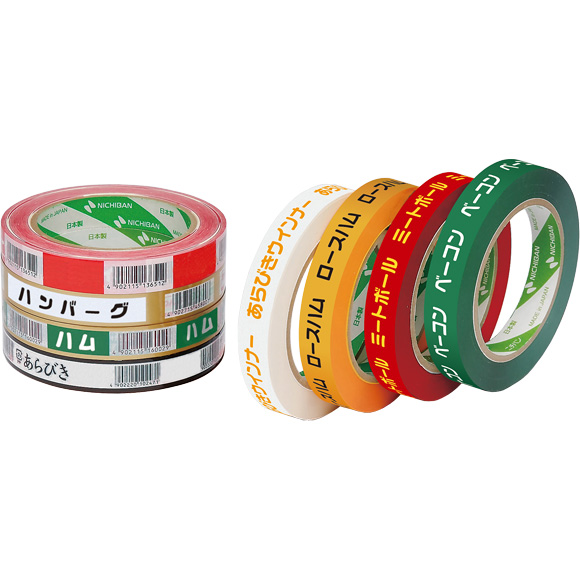 Tabanera™ tape Custom Printing (Mainly for processed meats, etc.).
Custom printing is available with the same features of Tabanera™ tape.
Features
Three types of adhesives are available according to the type of packaging for the processed food.
Types that can be cut by hand are also available.
For bundling

The adhesive surface of the tape can adhere to itself and is for bundling vegetables, food, ham, sausages, etc.

Compatible with custom printing

Possible to print custom text such as company names, product names, and makers.

Various sizes

Non-standard sizes can also be ordered.

Extra-long

Can be used for extra-long products. Can improve machine suitability.

No. 370 testing completed

Tested according to the Food Sanitation Act, Ministry of Health and Welfare Notification No. 370 of 1959,
Equipment and Container Standards.

Water resistance

Tape does not easily peel off even when it gets wet.
Applications
For binding general processed foods and maintaining appearance.
For advertising product brands, company names, and store names.
Physical Properties
Product number: 640-MP
Product name
Tabanera

™

tape
Base material
Polypropylene
Pressure sensitive adhesive
Rubber adhesive
Thickness (mm)
0.062
Peel strength (N/10mm)
3.12
Autohesion (N/10mm)
9.7
Tensile strength (N/10mm)
47.3
Elongation (%)
188
Product number: 640-MPT
Product name
Tabanera

™

tape
Base material
Polypropylene
Pressure sensitive adhesive
Rubber adhesive
Thickness (mm)
0.058
Peel strength (N/10mm)
2.51
Autohesion (N/10mm)
4.2
Tensile strength (N/10mm)
46.1
Elongation (%)
172
Product number: 640-MPW
Product name
Tabanera

™

tape
Base material
Polypropylene
Pressure sensitive adhesive
Rubber adhesive
Thickness (mm)
0.059
Peel strength (N/10mm)
2.57
Autohesion (N/10mm)
5.1
Tensile strength (N/10mm)
44.1
Elongation (%)
168
Product number: 641-MP
Product name
Tabanera

™

tape
Base material
Polypropylene
Pressure sensitive adhesive
Rubber adhesive
Thickness (mm)
0.061
Peel strength (N/10mm)
3.05
Autohesion (N/10mm)
8.3
Tensile strength (N/10mm)
19.9
Elongation (%)
24
Quantity (rolls)
Product number
Size
Packaging / Quantity
Inner box
Carton box
640-MP (Type for attaching ends)
640-MPT (Type for overlapping)
640-MPW (Type for overlapping / White glue)
20mm×100m
20mm×200m
20mm×500m
10
10
1
80
60
20
641-MP (Can be cut by hand)
20mm x 100m

10
80
Can Be Custom Ordered
Standard order amount (per lot) [±10% variation]

Ordering unit: 1,200m2
Product number
Color, printed texts
Size
640-MP (Type for attaching ends)
640-MPT (Type for overlapping)
640-MPW (Type for overlapping / White glue)

2-color printing (Standard)
Color combinations: Violet / Green / White / Red / Yellow / Blue
Order lot
20mm×100m About 600 rolls

20mm×100m
20mm×200m
20mm×500m
641-MP (Can be cut by hand)
20mm x 100m
Environmental Response