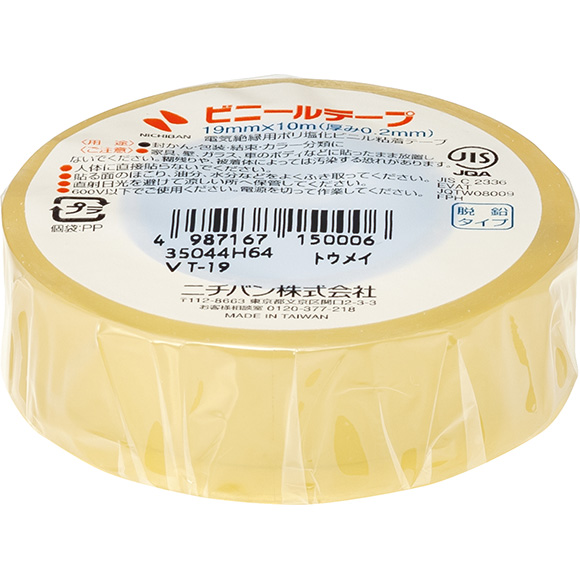 Flexible and water/moisture resistant tape made from soft PVC.
Lead-free type.
Features
Available in 13 colors. (19mm only)
This is polyvinyl chloride adhesive tape for electrical insulation.
*

Only use it for applications of 600V or less. Be sure to cut the power before performing work.
Applications
For moisture-proof packaging of cans, bottles, and more.
For sealing, packaging, bundling, and color classification.
Line-up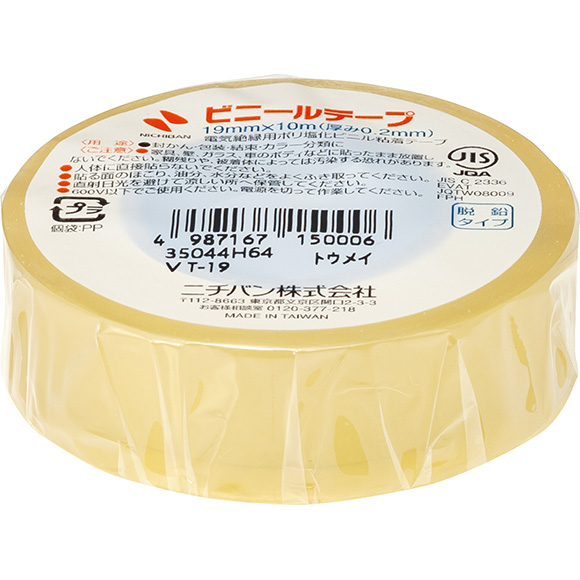 1. VT-19 Transparent
Size (mm×m)

19×10

Base material

Polyvinyl chloride

Pressure sensitive adhesive

Rubber adhesive

Notes

Transparent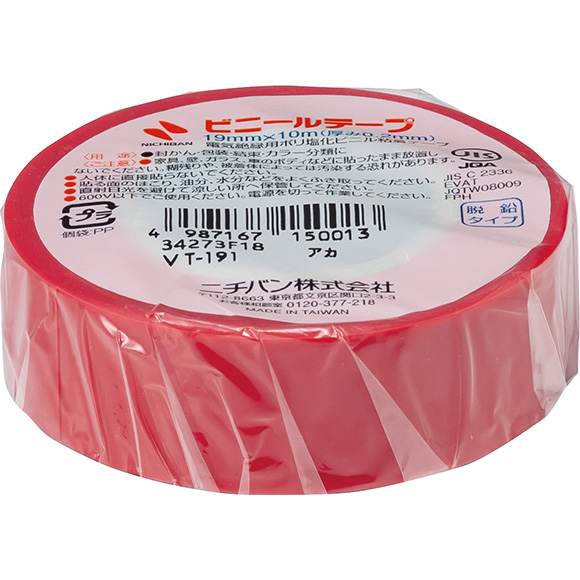 2. VT-191 Red
Size (mm×m)

19×10

Base material

Polyvinyl chloride

Pressure sensitive adhesive

Rubber adhesive

Notes

Red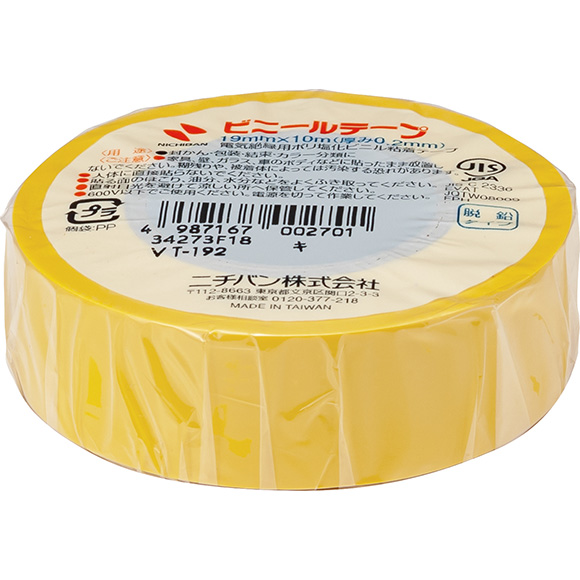 3. VT-192 Yellow
Size (mm×m)

19×10

Base material

Polyvinyl chloride

Pressure sensitive adhesive

Rubber adhesive

Notes

Yellow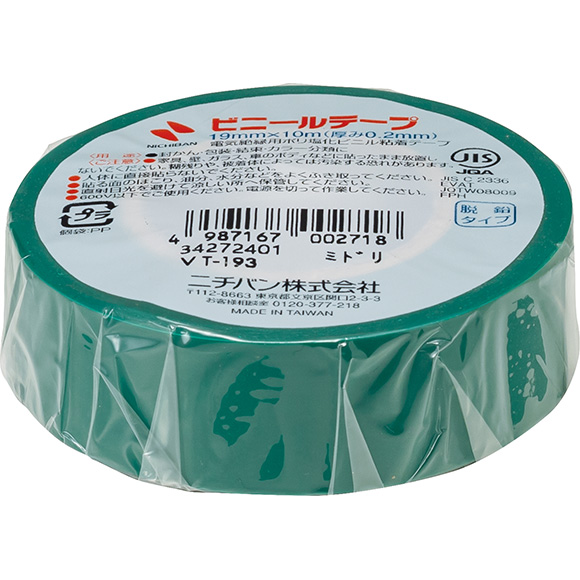 4. VT-193 Green
Size (mm×m)

19×10

Base material

Polyvinyl chloride

Pressure sensitive adhesive

Rubber adhesive

Notes

Green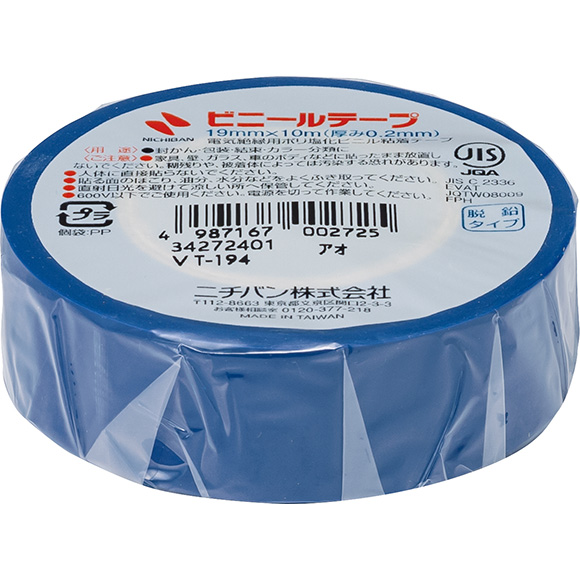 5. VT-194 Blue
Size (mm×m)

19×10

Base material

Polyvinyl chloride

Pressure sensitive adhesive

Rubber adhesive

Notes

Blue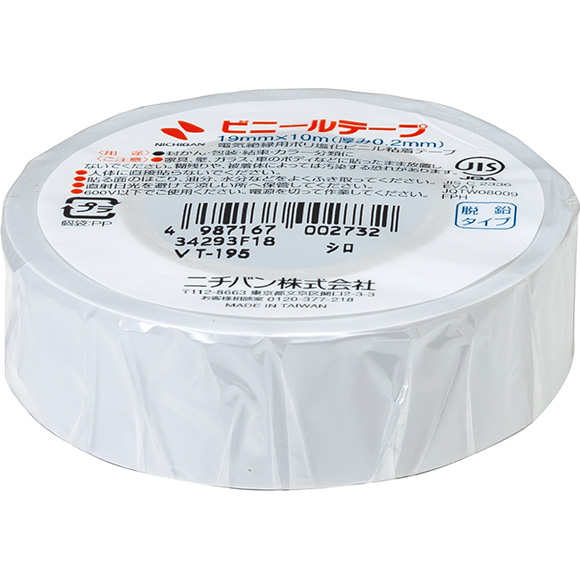 6. VT-195 White
Size (mm×m)

19×10

Base material

Polyvinyl chloride

Pressure sensitive adhesive

Rubber adhesive

Notes

White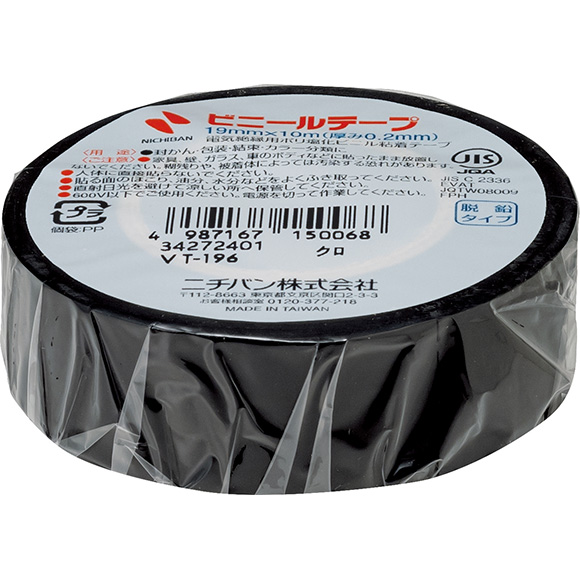 7. VT-196 Black
Size (mm×m)

19×10

Base material

Polyvinyl chloride

Pressure sensitive adhesive

Rubber adhesive

Notes

Black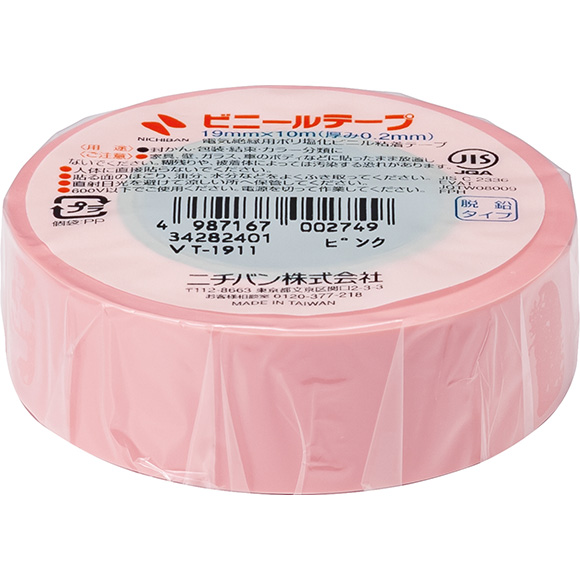 8. VT-1911 Pink
Size (mm×m)

19×10

Base material

Polyvinyl chloride

Pressure sensitive adhesive

Rubber adhesive

Notes

Pink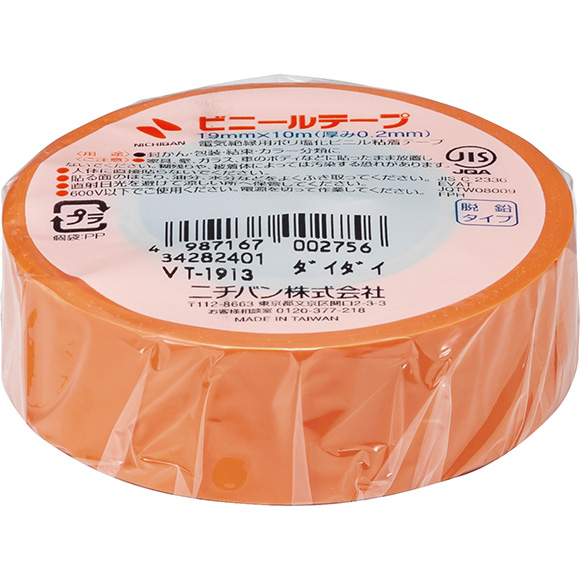 9. VT-1913 Orange
Size (mm×m)

19×10

Base material

Polyvinyl chloride

Pressure sensitive adhesive

Rubber adhesive

Notes

Orange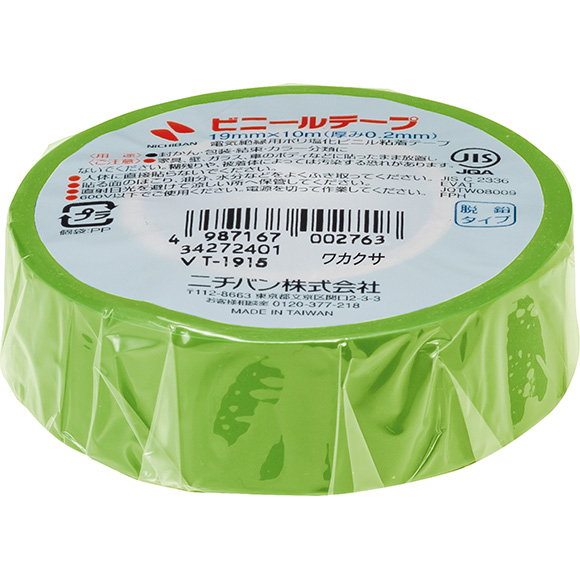 10. VT-1915 Fresh green
Size (mm×m)

19×10

Base material

Polyvinyl chloride

Pressure sensitive adhesive

Rubber adhesive

Notes

Fresh green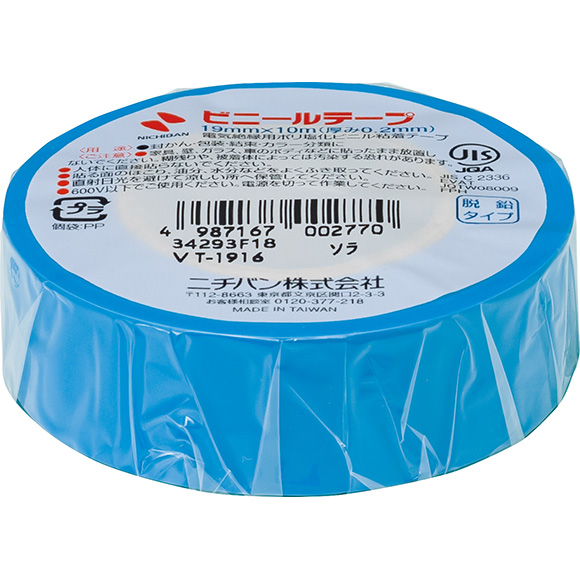 11. VT-1916 Sky
Size (mm×m)

19×10

Base material

Polyvinyl chloride

Pressure sensitive adhesive

Rubber adhesive

Notes

Sky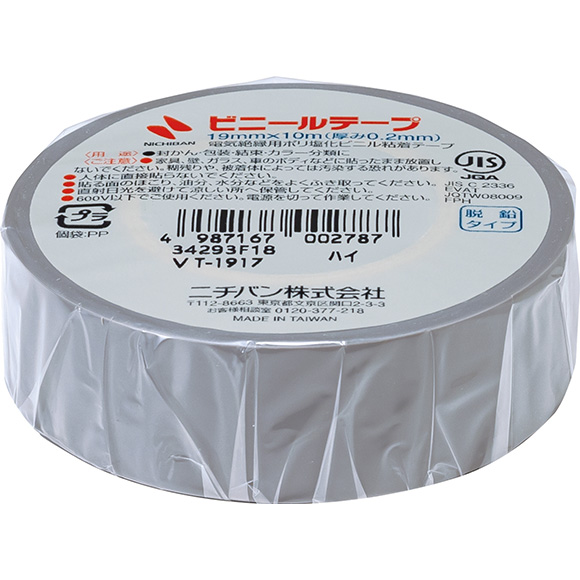 12. VT-1917 Gray
Size (mm×m)

19×10

Base material

Polyvinyl chloride

Pressure sensitive adhesive

Rubber adhesive

Notes

Gray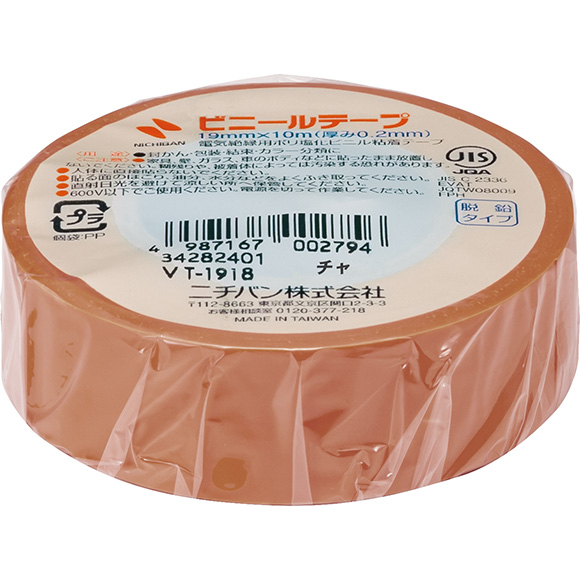 13. VT-1918 Brown
Size (mm×m)

19×10

Base material

Polyvinyl chloride

Pressure sensitive adhesive

Rubber adhesive

Notes

Brown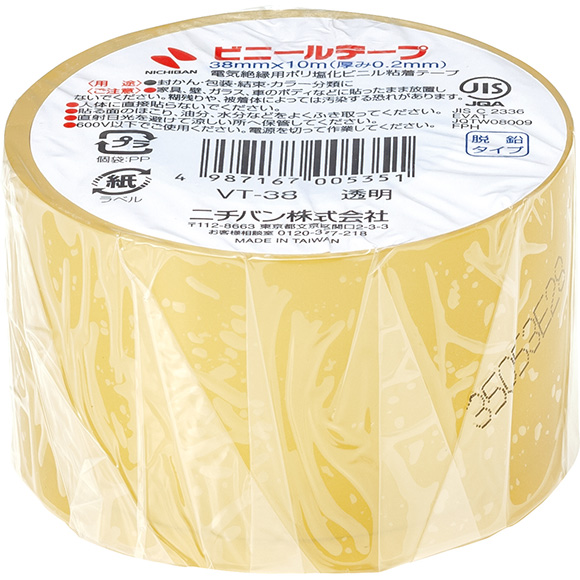 14. VT-38 Transparent
Size (mm×m)

38×10

Base material

Polyvinyl chloride

Pressure sensitive adhesive

Rubber adhesive

Notes

Transparent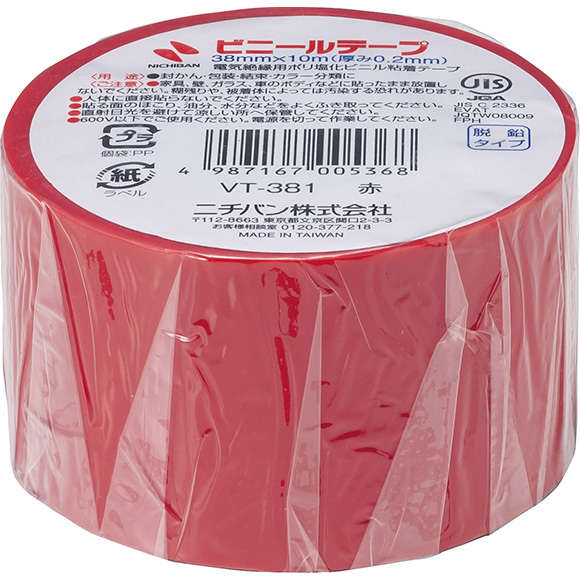 15. VT-381 Red
Size (mm×m)

38×10

Base material

Polyvinyl chloride

Pressure sensitive adhesive

Rubber adhesive

Notes

Red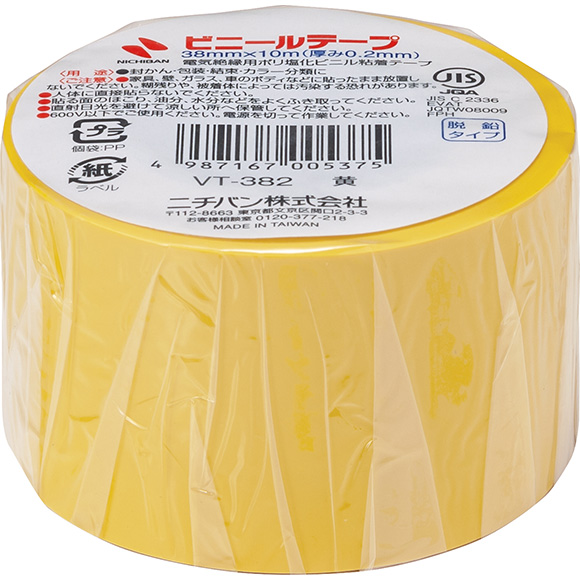 16. VT-382 Yellow
Size (mm×m)

38×10

Base material

Polyvinyl chloride

Pressure sensitive adhesive

Rubber adhesive

Notes

Yellow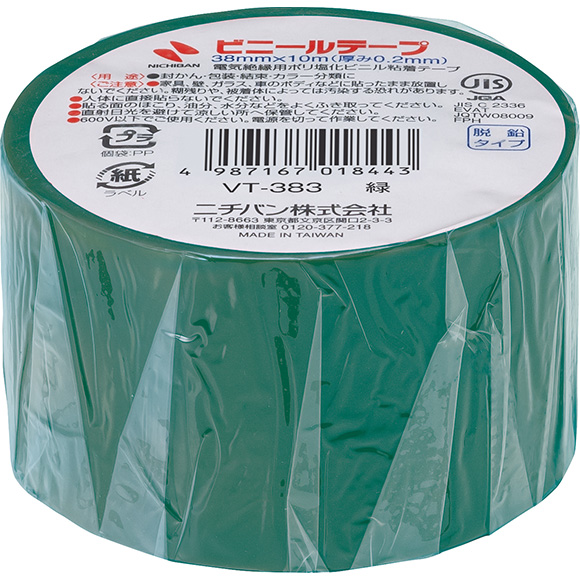 17. VT-383 Green
Size (mm×m)

38×10

Base material

Polyvinyl chloride

Pressure sensitive adhesive

Rubber adhesive

Notes

Green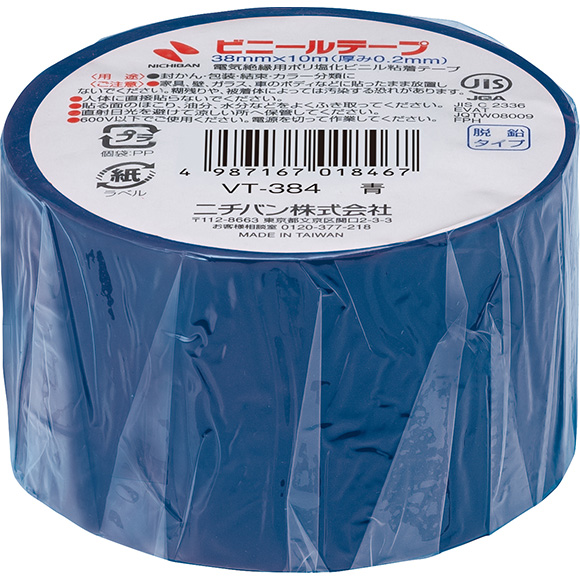 18. VT-384 Blue
Size (mm×m)

38×10

Base material

Polyvinyl chloride

Pressure sensitive adhesive

Rubber adhesive

Notes

Blue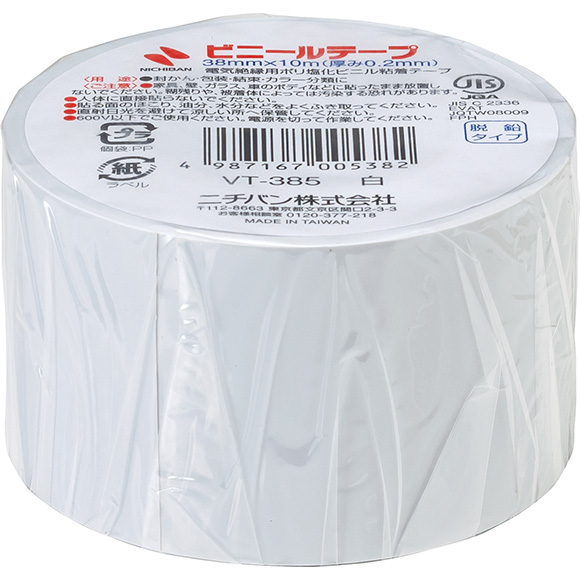 19. VT-385 White
Size (mm×m)

38×10

Base material

Polyvinyl chloride

Pressure sensitive adhesive

Rubber adhesive

Notes

White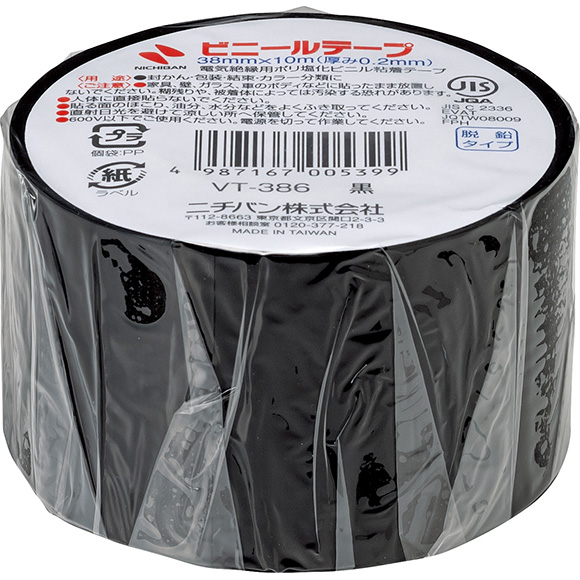 20. VT-386 Black
Size (mm×m)

38×10

Base material

Polyvinyl chloride

Pressure sensitive adhesive

Rubber adhesive

Notes

Black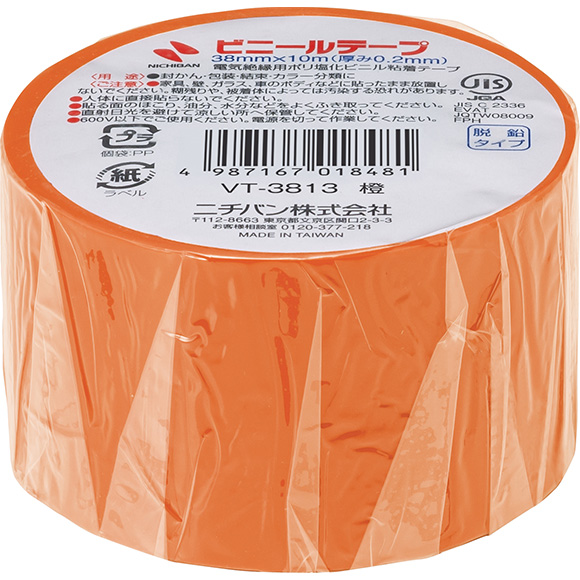 21. VT-3813 Orange
Size (mm×m)

38×10

Base material

Polyvinyl chloride

Pressure sensitive adhesive

Rubber adhesive

Notes

Orange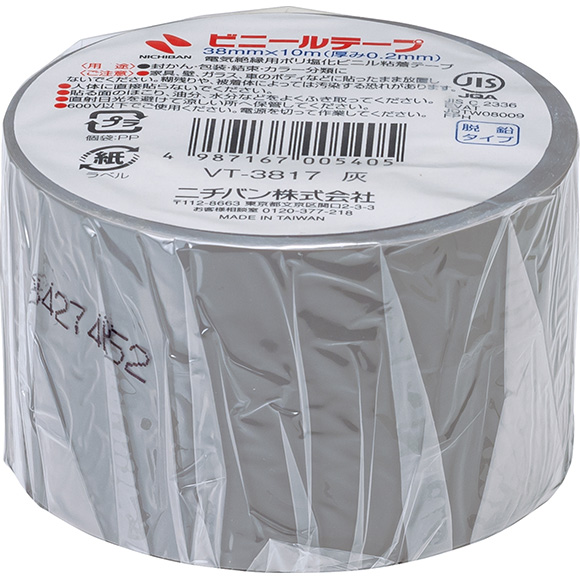 22. VT-3817 Gray
Size (mm×m)

38×10

Base material

Polyvinyl chloride

Pressure sensitive adhesive

Rubber adhesive

Notes

Gray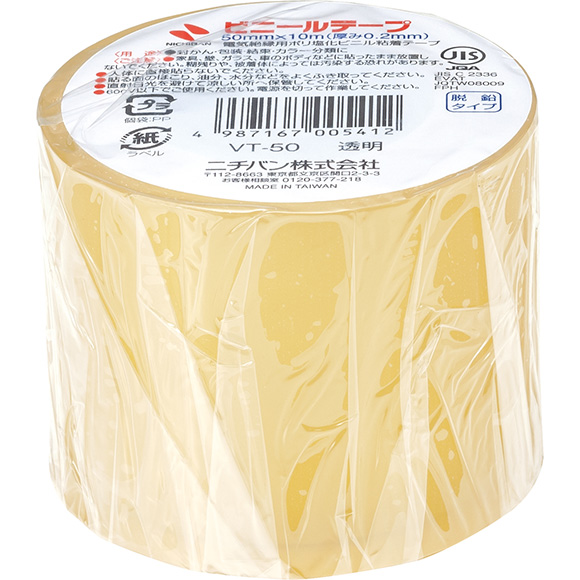 23. VT-50 Transparent
Size (mm×m)

50×10

Base material

Polyvinyl chloride

Pressure sensitive adhesive

Rubber adhesive

Notes

Transparent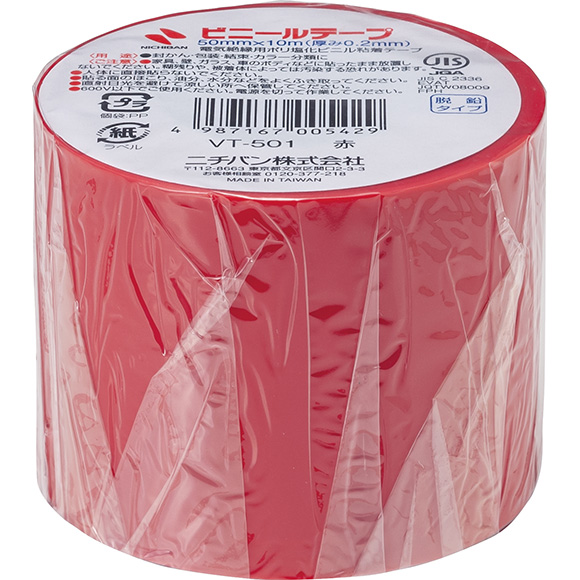 24. VT-501 Red
Size (mm×m)

50×10

Base material

Polyvinyl chloride

Pressure sensitive adhesive

Rubber adhesive

Notes

Red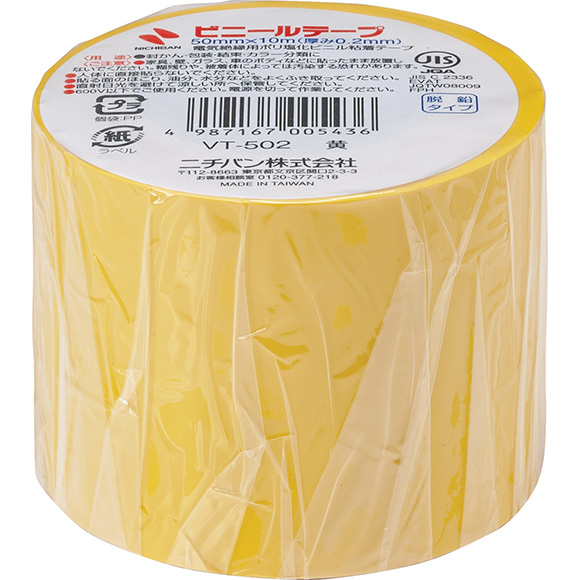 25. VT-502 Yellow
Size (mm×m)

50×10

Base material

Polyvinyl chloride

Pressure sensitive adhesive

Rubber adhesive

Notes

Yellow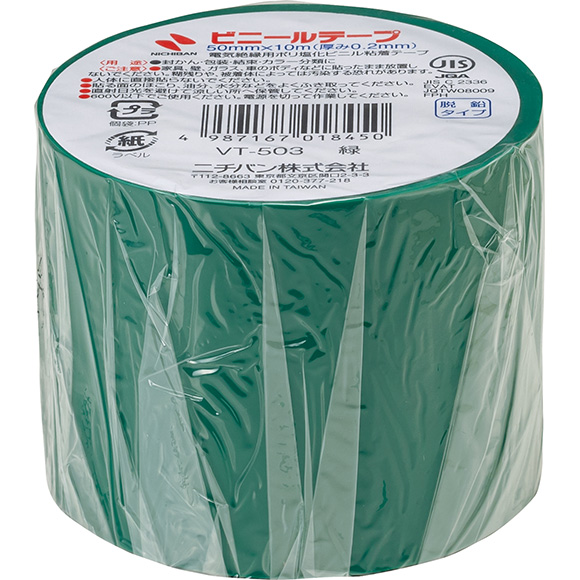 26. VT-503 Green
Size (mm×m)

50×10

Base material

Polyvinyl chloride

Pressure sensitive adhesive

Rubber adhesive

Notes

Green
27. VT-504 Blue
Size (mm×m)

50×10

Base material

Polyvinyl chloride

Pressure sensitive adhesive

Rubber adhesive

Notes

Blue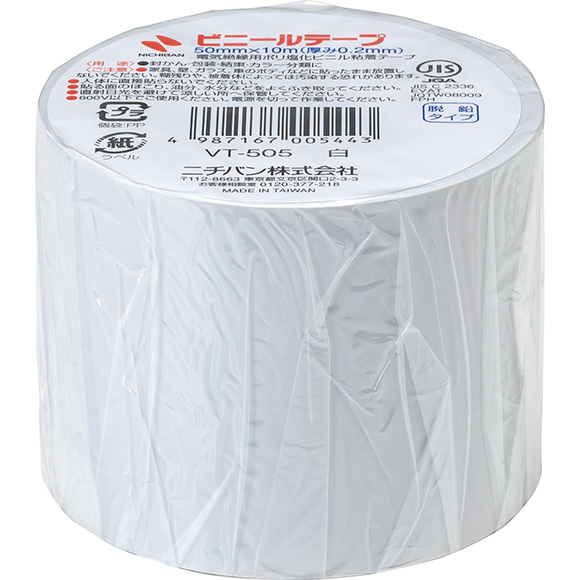 28. VT-505 White
Size (mm×m)

50×10

Base material

Polyvinyl chloride

Pressure sensitive adhesive

Rubber adhesive

Notes

White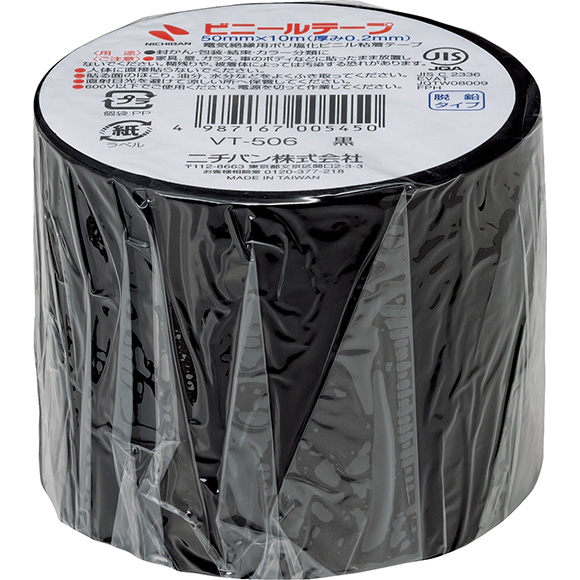 29. VT-506 Black
Size (mm×m)

50×10

Base material

Polyvinyl chloride

Pressure sensitive adhesive

Rubber adhesive

Notes

Black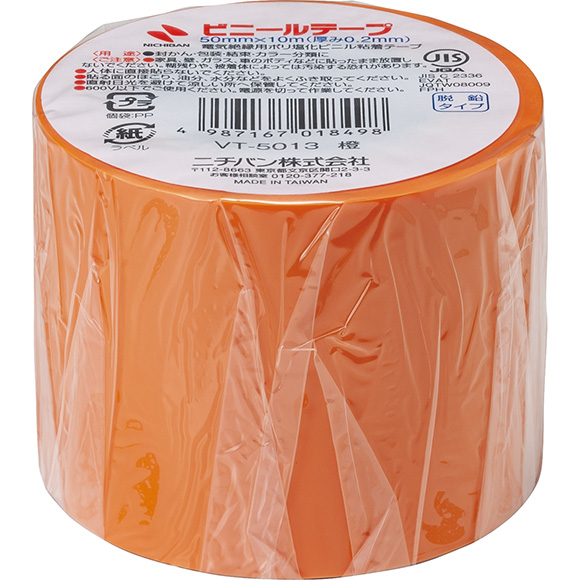 30. VT-5013 Orange
Size (mm×m)

50×10

Base material

Polyvinyl chloride

Pressure sensitive adhesive

Rubber adhesive

Notes

Orange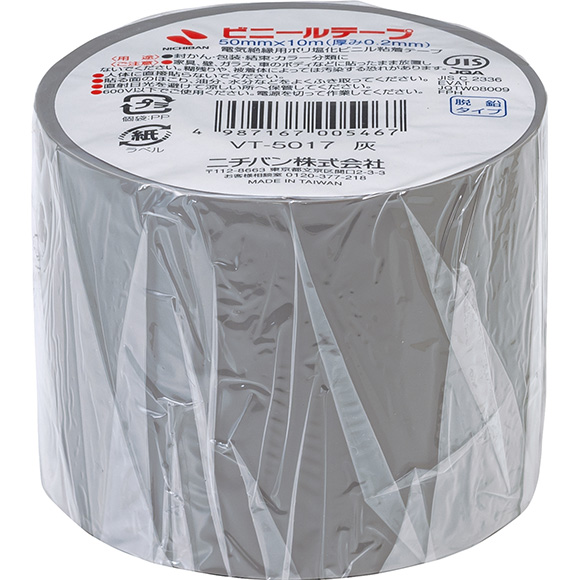 31. VT-5017 Gray
Size (mm×m)

50×10

Base material

Polyvinyl chloride

Pressure sensitive adhesive

Rubber adhesive

Notes

Gray