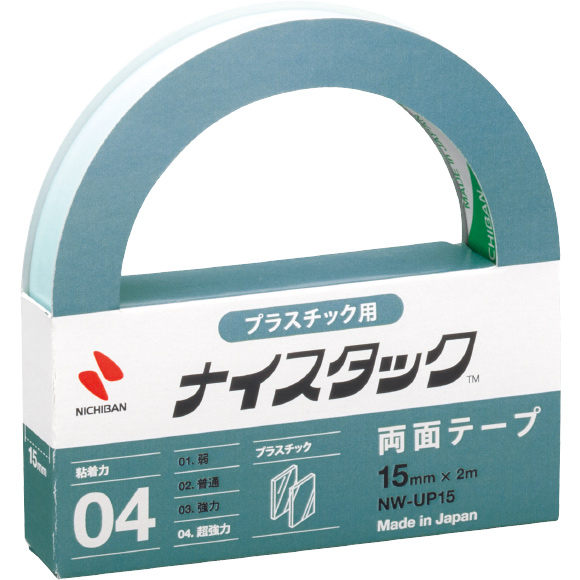 Ideal for attaching plastics. Ultra-strong type spongy raw material.
Features
It has excellent adhesion to polyethylene and polypropylene.
The core is made from recycled paper.
The holder is perforated to make sorting and disposal easy.
*

Cutter is not included.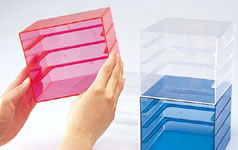 The NICETACK
™

Series is now compatible with 90% of adherable objects!

The Nichiban double sided tape NICETACK™ Series is compatible with about 90% of adherable objects where double-sided tape is used including paper, drawing paper, cardboard, corrugated wood, plastic, and cloth.
Application
Ideal for adhering to plastic raw materials, which is normally difficult.
Line-up
1. NW-UP15SF
Size (mm×m)

15×1.2

Base material

Foam polyethylene

Pressure sensitive adhesive

Rubber adhesive

Liner

Paper

Notes

1 inch core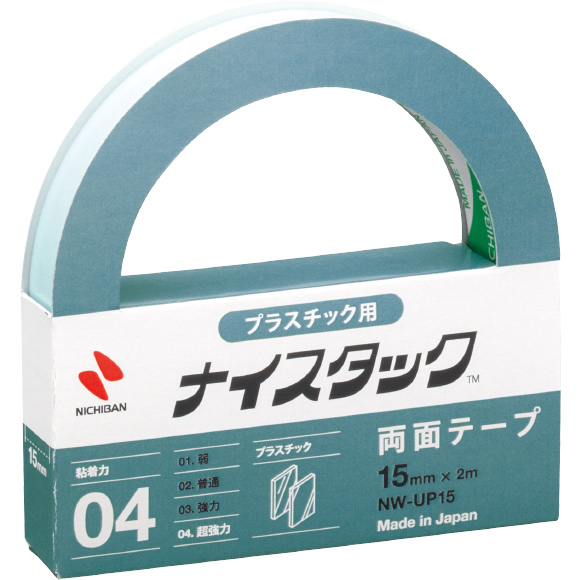 2. NW-UP15
Size (mm×m)

15×2

Base material

Foam polyethylene

Pressure sensitive adhesive

Rubber adhesive

Liner

Paper

Notes

3 inch core
Environmental Response