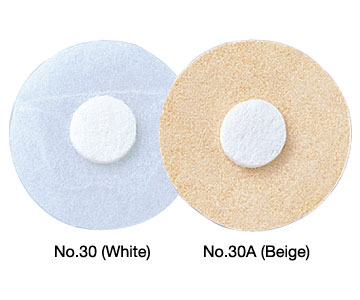 Our products
Adhesive bandage with hemostatic pad: The pad is made of an unwoven cellulose fabric; The tape is made of an unwoven fabric made mainly from pulp and polyester and acrylic adhesives.
Medical device notification number 40B2X00015131100
Medical supplies (4) Orthopedic instruments
General medical device First-aid bandage
JMDN code 34864000
Key features
Appropriate compression
The 3 mm-thick round pad is highly absorbent, creating a compression effect
Round in shape, with secure fastening, high adhesive performance and strength
Mildly-irritating
Tapes made of unwoven fabric mainly composed of flexible and breathable pulp and polyester, with acrylic adhesives also applied to it.
Sterilized
Individually sterilized by EOG before packaging.
Hygienic and user-friendly design
Easily and hygienically attached to the skin without needing to touch the pad or the adhesive.
Comes in two standard colours of white and beige
We have beige coloured tapes that blend in well with the skin.
Backing: polypropylene non-woven fabric
Pad: cellulosic non-woven fabric
Adhesive: acrylic adhesive
Target customers:
Blood sampling institutions (blood sampling rooms, clinics), dialysis (secondary hemostasis), orthopedic (punctures from inoculation), health check centres, etc.
Applications
Protective coating following an intravenous injection, drawing blood or giving immunization shots.
Protective coating after arthrocentesis.
Precautions
Do not reuse the product
If the wounds become clinically infected while using the product, please stop its use and seek appropriate treatment.
If you develop skin lesions (e.g. rashes, flares or itching) while using the product, please stop its use and seek appropriate treatment.
In case the product gets wet or tainted, or if blood or exudate fluid discharges on the pad, please take it off and apply a fresh pad immediately.
If the product is defaced, broken or gets wet when used, please peel it off.
The product should be used immediately after the seal is broken.
Peel off the pad slowly along the flow of your body hair to prevent skin injuries upon removal.
Storage
Store at room temperature, away from water, high temperatures, high humidity and direct sunlight.
Specifications
White
Product number
Size
per box
Adhesives
Pad
No.30
30 mmφ
10 mmφ
120 sheets
No.36
36 mmφ
16 mmφ
100 sheets
Beige
Product number
Size
per box
Adhesives
Pad
No.30A
30 mmφ
10 mmφ
120 sheets
No.36A
36 mmφ
16 mmφ
100 sheets