Washi(*Japanese Rice Paper) Masking Tape No.2312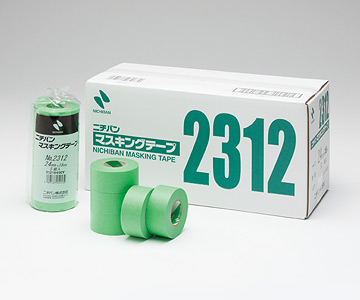 Our products
Masking tape made from Japanese Rice paper.
Key features
Sticks well when applied in layers.
It rarely comes loose, peels off or leaves any adhesive residue on the surface, even when heat is applied.
Ideal for masking straight lines. Also sticks securely on curved lines and round surfaces.
Easily torn with your fingers.
A pleasant shade of green.
Applications
For masking vehicle apertures prior to paintings
Product details
Product number: No.2312
| Base material | Maximum temperature resistance (°C for 30 mins) | Pressure sensitive adhesive | Thickness (mm) | Peel adhesion (N/10mm) | Tensile Strength (N/10mm) | Elongation (%) |
| --- | --- | --- | --- | --- | --- | --- |
| Washi(*Japanese Rice Paper) paper | 120 | Acrylic adhesive | 0.095 | 1.09 | 35.1 | 5 |
Quantity per carton
Width (mm)
Length (m)
Units included (rolls)
Individual packaging
Inner box
Carton box
9
18
12
120
1,200
12
10
100
1,000
15
8
80
800
18
7
70
700
20
6
60
600
24
5
50
500
30
4
40
400
40
3
30
300
50
2
20
200
15
100
-
16
128
Colour
Green