High kraft tape No.320 / No.320W / No.320WC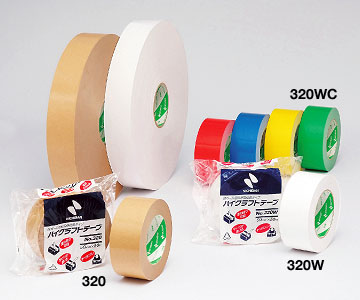 Our products
Tapes made from kraft paper, suitable for packaging.
Key features
The backing of the tape is textured to prevent slipping. You can write on the backing using oil-based inks, and it also sticks well when applied in layers.
The tapes come in five standard colours.
The base colour of the craft paper is pure white, and the tapes come in eleven different bright colours.
Applications
Sealing cardboard boxes and Styrofoam containers
Packing products
Sealing garbage bags
Identifying objects by colour coding, etc.
Product details
Product number: 320, 320W, 320W
| Base material | Pressure sensitive adhesive | Thickness (mm) | Peel adhesion (N/10mm) | Tensile Strength (N/10mm) | Elongation (%) |
| --- | --- | --- | --- | --- | --- |
| Kraft paper | Rubber adhesive | 0.15 | 3.68 | 69.3 | 8 |
Quantity per carton
Product number
Width
Length
Individual packaging
Carton box
320
25 mm
50 m
1
100
38 mm
50 m
1
60
500 m
-
6
50 mm
50 m
1
50
500 m
-
5
60 mm
50 m
1
40
75 mm
50 m
1
30
320W
38 mm
50 m
1
60
500 m
-
6
50 mm
50 m
1
50
500 m
-
5
320WC
50 mm
50 m
1
50
Colour
No.320 : Yellow ochre
No.320W : White
No.320WC : Red, yellow, green, blue