Tabanera

™

tape No.640-V / No.640-VPS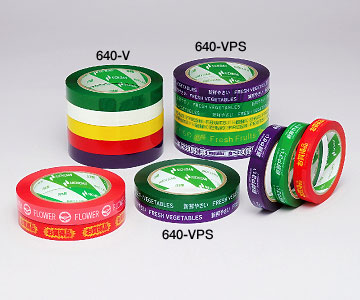 Our products
Tapes for bundling vegetables and processed food products.
Key features
The tape can be used to bind a product by wrapping the tape around it and joining the ends of the tape together.
The tape stick at the ends of that together, but will not stick to the bound goods.
The tape comes in various generic forms to suit the product you need to bundle.
Applications
Bundling food products in general, securing articles
Enable the labelling of fruits and vegetables which are difficult to stick labels on
Bundling processed food products, etc.
Product details
Product number: 640-V
| Base material | Pressure sensitive adhesive | Thickness (mm) | Peel adhesion (N/10mm) | Autohesion (N/10mm) | Tensile Strength (N/10mm) | Elongation (%) |
| --- | --- | --- | --- | --- | --- | --- |
| Polypropylene | Rubber adhesive | 0.062 | 3.12 | 9.7 | 47.3 | 188 |
Product number: 640-VPS
| Base material | Pressure sensitive adhesive | Thickness (mm) | Peel adhesion (N/10mm) | Autohesion (N/10mm) | Tensile Strength (N/10mm) | Elongation (%) |
| --- | --- | --- | --- | --- | --- | --- |
| Polypropylene | Rubber adhesive | 0.062 | 3.12 | 9.7 | 47.3 | 188 |
Quantity per carton
Plain coloured tapes
Product number
Colour, printed texts
Size (mm×m)
Package, units
Inner box
Carton box
640-V
Purple
15×100
10
160
Purple, green, white, red, yellow
20×100
10
80
Standard printed products
Product number
Colour, printed texts
Size (mm×m)
Package, units
Inner box
Carton box
640-VPS
AV15 (Purple tapes with the text " FRESH VEGETABLES" printed in white)
15×100
10
160
AV20 (Purple tapes with the text " FRESH VEGETABLES" printed in white)
20×100
10
80
AG15 (Green tapes with the text " FRESH VEGETABLES" printed in white)
15×100
10
160
AG20 (Green tapes with the text " FRESH VEGETABLES" printed in white)
20×100
10
80
BY20 (Yellow tapes with the text " FRESH FRUITS" printed in white)
20×100
10
80
BG20 (Green tapes with the text " Fresh Fruits" printed in white)
20×100
10
80
Standard printed products design (miniature version)


640-VPS AV20


640-VPS AG20